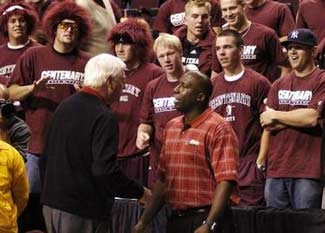 One would think, by this point of his career, Bob Knight would have grown a little bit of a thicker skin. But, of course, that would make him someone other than Bob Knight, now, wouldn't it?
Over the weekend, Knight didn't return to the floor after halftime of a Texas Tech loss to Centenary, ostensibly because he had the flu. But just before halftime, he had a rather spirited conversation with some Centenary students.
A Centenary student yelled, "Oh (expletive), he's got a gun," as Knight headed to the locker room with his team leading the Gentlemen 35-32.

Knight stopped, walked to the students and calmly explained the Red Raiders were, "Being nice by coming here," and that, "No other team in the (Big 12) conference would travel here."
The real question, though: Did he have a gun, or not?
Bobby Knight Doesn't Take Well To Heckling [The Sporting Blog]