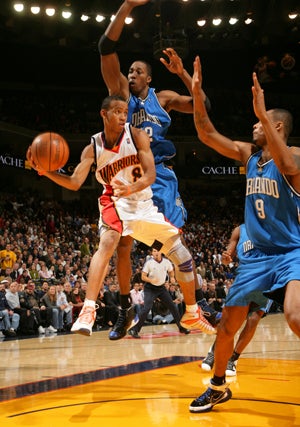 The NBA Closer is now written by our own Canadian weekend maestro J.E. Skeets. When he's not busy scouring the box scores, he can be heard on The Basketball Jones daily podcast. Enjoy.
• Magic Carpet Ride. Leave it to the Orlando Magic to strut into the hostile Oracle Arena — with their pimp canes and iced out goblets — and snap the Warriors' six-game winning streak. Dwight Howard scored four of his 18 in extra time as the NBA's top roadies pulled off the entertaining 123-117 OT victory over Golden State. The Glass Tiger, Howard, nearly cost the Magic the game in regulation when he was assessed with a tech for smacking the padding on the basket after a missed dunk. Ridiculous call. He composed himself though and calmly hit two late free throws to extend the drama. 'Lil Jameer Nelson finished with 22 points, 11 assists and eight rebounds and Keith "Bilbo" Bogans chipped in 22 for the Blue, who are now 11-2 on the road and 16-4 overall under sexy Stan Van Gundy.
• Wild Wild Midwest. Travis Outlaw scored 21 points, including the winning runner at the buzzer, to give the Blazers their first road victory of the season, 106-105 over the Grizzle. Officials reviewed the basket to see if Outlaw got the shot off in time and whether the clock started properly when Portland inbounded the ball with a little less than 3 seconds left. Yup and yup. Mike Miller had a season-high 30 in the loss. His hair-band will be enshrined in Springfield later today.
• You Shall Not See This Come June. Here's to hoping the "experts" that had this one circled as a possible Finals preview did so in pencil. You'd just hate to ruin a perfectly good Far Side desk calendar, you know? Josh Howard scored 27 points and Dirk Nowitzki added 25 as the Mavs hung on to a late double-digit lead to beat the Bulls 103-98. Andres Nocioni scored 14 of his 30 points in the final frame, which was a complete and utter waste of effort.
• Filling The Void. No Chris Bosh (groin), no T.J. Ford (arm), no Andrea Bargnani (girl's name) ... no problem! We run fifteen deep up here, homes. Kris Humphries and Carlos Delfino both scored 17 points, Joey Graham added 13 and three other Dino-bots scored in double figures as Toronto posted their fourth straight home win with a 98-79 drubbing of the Charlotte Hornets. Yes, Hornets. That's what the cover of the game program had listed.