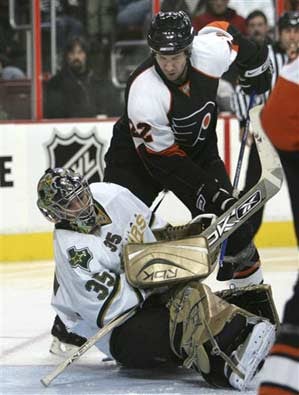 We are proud to welcome famed hockey journalist James Mirtle to the post of NHL Closer writer this week.
Hotter Than a Flaming Cheesesteak. The Flyers didn't play last night, but that doesn't stop Philadelphia from topping The Closer for two reasons: (1) Riley Cote became the fifth member of his team suspended this season (meaning the Flyers filled their 'free donut' punch card), and more important, (2) a zamboni caught fire in suburban Aston. (And, no, I don't mean a member of "North America's all-hockey band!!!!" although that would be good, too, if set to Hockey Monkey.) Shudder.
And the Award for the Goaltender Whose Name Sounds the Most Like Someone Clearing Their Throat Goes to ... With the French guy out with a groin tweak and the kid from Bill's Puddle bedridden with the Canadian flu, the Habs called up Jaroslav Halak to save the day tonight against the Detroit Red Wings. That's a bit of a step up from what he was up to with the Hamilton Bulldogs.
Money Can't Buy You Goals. The Rangers reverted to their spendthrift ways in the off-season, but bringing in Scott Gomez and Chris Drury for a combined $87-million over 12 years and spending little on defence and goaltending has seen them become the team with the second-worst offence (and best defence) in the NHL this season. Last night, the small-market Hurricanes fed the Blueshirts their lunch money with a 4-0 win that saw the sentient being who has replaced Cory Stillman score two goals and move into seventh place in league scoring.
Gretzky's Pact With Satan Expires. I honestly can't explain to you good folks why the Phoenix Coyotes aren't hockey's Miami Dolphins right now. This is the worst roster to take the ice since Emilio 'Flying V' Estevez's last stint behind the bench, but coach Wayne Gretzky somehow coaxed these Desert Dogs to a 11-10 start this season with the help of some magic muppets. (The green one's Keith Ballard.) Thankfully, instead of rolling around in the slop in Pittsburgh, Phoenix simply lost 3-1 last night to Pittsburgh, the team's fourth defeat in a row. Order has been restored, no thanks to Miroslav (or Naked Dom).