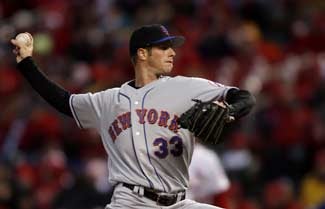 If we know anything about baseball players, we know that they love to dress up in women's clothing. This is a verifiable fact, as true as the nose on your face and the whet of your whistle. Witness Exhibit 2732-A, Mets pitcher John Maine.
Apparently, at the opening of a Manhattan nightclub on Thursday, Maine was paying women to try on their dresses.
The Virginia-born ball-hurler later approached PageSix.com and asked to test-drive our frock as well. "I'm John Maine. I pitch for the Mets! I'm a hot piece of ass!" he kept repeating. He said that he was on his way to a drag party later that night. "Come on, I'll give you $200 to try on your dress," he begged. "Just to take a picture. It'll be fun."
The "PageSixer" with the scoop — and the dress — is actually former Deadspin correspondent Noelle Hancock, and we can confirm: She totally doesn't let anyone wear her dresses. Even if you pitch for the Mets and are, in fact, a hot piece of ass.
Mets Pitcher Is A Drag [PageSix]

Deadspin Party Crash: Bill Simmons' NYC Book Signing [Deadspin]
(UPDATE: The Daily News had this as well, and their site included the following comment:
"joeyroc316 Dec 4, 2007 10:26:08 AM

thats the biggest bunch of BS ive ever heard... Ben Widdi looks like a total tool taking a shot at maine and isn't one to talk about anything regarding gay tendencies with that picture of himself up there... whos the girl? source? o, he left out anything to back up his 'story' is at the point where u have to be a complete **** to be a sportswriter?....ask benny what pitch to throw chipper on 3-2 count with the game on the line and i bet he'd get a headache....yet he is a 'sportswriter' for a 2nd grade level of reading newspaper the two of em were probably so wasted she didnt know what he was sayin..... any girl that goes into a bathroom stall with a guy she just met is a GRRRRRRRRRRRRRREAT source anyway and just shouts class...brings back memories of gina from scarface and i wish tony was around to talk to this classy girl"
Awesome.)