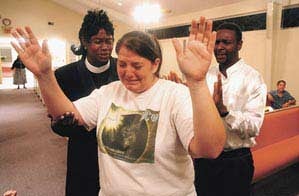 You might remember Kentucky freshman hooper Alex Legion, whose mother famously was told by God would lead the Wildcats to the Final Four. Well, God would like a mulligan, please.
Legion, less than 10 games in, is transferring.
Wildcats freshman shooting guard Alex Legion has decided to transfer, said sources close to the situation. According to one source, the move primarily concerned Gillispie — and wasn't about playing time. "He was told he'd get his release later this week," the source said. "It wasn't about his playing time at all."
Once again, The Higher Diety reveals his underlying weakness: His inability to appropriate match basketball talent with basketball coach. You'd think, with all the oceans and mountains and abstract concepts like love, he'd have that figured out. Lame, God: LAME.
God Wants A Do-Over On Alex Legion [The Angry T]
She's Like Biff From The Future [Deadspin]