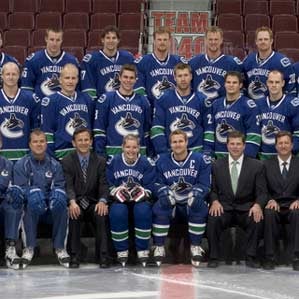 You have to admire the NHL: There's currently no more fan-friendly "major" sports league, if just because they appear to have finally noticed they don't have as many fans to be friendly toward as they used to. They're taking it to the next level now: You can actually be a member of the Vancouver Canucks.
Well, kind of: For $1,500 bucks — as of now — you can pose in the Canucks team photo.
If you're a Canucks fan, you have the opportunity to bid for a spot in the teams annual photo at the end of the season. Along with being in the team photo, you'll receive an 8x10 copy as well as a replica jersey to wear in the picture. No word on if they'll let you keep that lovely sweater.
The winning bid will be donated to Canuck Place Children's Hospice and BC Children's Hospital Child & Adolescent Mental Health Building. Wait: Don't they have socialized medicine there? Why don't they use that money for something useful, like upgrading police equipment, so they don't have to, you know, ride horses?
Win A Chance To Be In Canucks Team Photo [Going Five Hole]