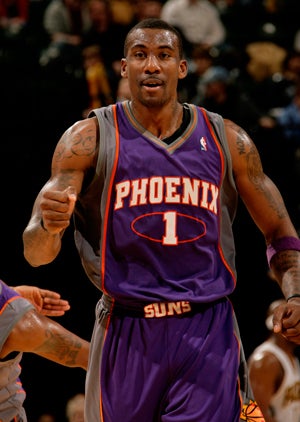 The NBA Closer is now written by our own Canadian weekend maestro J.E. Skeets. When he's not busy scouring the box scores, he can be heard on The Basketball Jo— WHOA, WHOA, WHOA, FALL BACK, BLOGGER! FALL. BACK. IT'S ABOUT TIME THAT A RESPECTED JOURNALIST, SUCH AS MYSELF, DO THIS POST SOME GOOD! SO WATCH CLOSELY, ROOK. YOU MIGHT JUST LEARN A THING OR SIX FROM MR. STEPHEN A. SMITH!
• LET'S PUT IT ALL IN IT'S PROPER PERSPECTIVE! AMARE STOUDEMIRE IS UNSTOPPABLE LIKE A STOP SIGN! HE IS ONE PART ANTON CHIGURH, ONE PART BLANKA, ONE PART ANCIENT NAMELESS WATER BEAST! AMARE SCORED 42 POINTS AND GRABBED 13 BOARDS TO LEAD THE SUNS TO A 121-117 VICTORY OVER THE PACERS. STEPHEN J. NASH HAD 18 POINTS AND 17 ASSISTS. IMPRESSIVE NUMBERS, WITHOUT QUESTION. BUT I ASK YOU THIS: WHAT IF STEVE NASH WERE BLACK? OH. NO. WOULD STEVE NASH NOT JUST BE A POOR MAN'S TYRUS EDNEY? WOULD HE NOT!? LET ME ANSWER THAT FOR YOU: I THINK SO!
• I'M NOT PERPLEXED BY THIS HAWKS TEAM! THEY LOOK LIKE THEY DON'T KNOW WHAT THEY DOIN' RIGHT NOW. IT'S REALLY THAT SIMPLE TO ME. HERE THEY ARE LOSING 106-95 TO THE PISTONS! AND TO THAT I SAY, WHERE IS THE SUPER YOUTH, COACH WOODSON? WHERE!? I DON'T SEE IT! HAWKS GUARD SALIM STOUDAMIRE HAD 15 POINTS, ALL IN THE FOURTH. SO WHY ISN'T HE PLAYING MORE? WHY!? YOU EXTRAPOLATE THOSE NUMBERS OVER THE ENTIRE COURSE OF THE GAME AND SALIM STOUDAMIRE IS DROPPING 60 POINTS PER GAME! 60! EASY! I'M SAYING IF YOU GONNA MAKE A STATEMENT, MAKE A STATEMENT, COACH WOODSON. YOU DON'T WANT TO PLAY HIM? THEN CUT HIM LOOSE! SALIM STOUDAMIRE CAN GO WIN LEAGUE MVP SOMEWHERE ELSE!
• KNOW YOUR ROOTS! WE GOTS TO GET SOME REAL BALL TALK UP IN HERE! SO LISTEN, JOHN SALMONS SCORED 13 STRAIGHT IMMEDIATELY AFTER KEVIN MARTIN WENT DOWN WITH A STRAINED GROIN, LEADING THE KINGS TO A 117-107 VICTORY OVER THE JAZZ. BALL. TALK. NOW, MORE IMPORTANTLY, UTAH JAZZ: YOU DON'T NEED TO BE LYING TO THE GENERAL PUBLIC. YOU PLAY IN UTAH, SURE. BUT YOU FROM NEW ORLEANS, OK? SO DON'T ACT LIKE YOU FROM UTAH. YOU PRETEND YOU FROM UTAH, BUT YOU ORIGINALLY FROM N'AWLINS. IT'S JUST THAT SIMPLE!
• QUITE FRANKLY, THEY BLOW! I'M SORRY. I WANT TO TALK ABOUT THIS GAME. I DO! I WANT TO ANALYZE KOBE'S SICK 20 POINTS AND BREAK DOWN THE X'S AND O'S. HOWEVA! IT IS A COMPLETE WASTE OF MY TIME TO BE TALKING ABOUT THE MINNESOTA TIMBERWOLVES RIGHT NOW. A COMPLETE A WASTE OF TIME! THEY'RE HORRIBLE! ABSOLUTELY HORRIBLE! LOSING BY 21 TO THE L.A. LAKERS? PLEASE! SOMEBODY WAKE ME WHEN THE WOLVES GET KEVEN GARNETT BACK. UNTIL THEN, I HAVE BLOGS TO PISS ON IN MY DREAMS!
___________________________________________________________________
Sent by my Blackberry Wireless Handheld