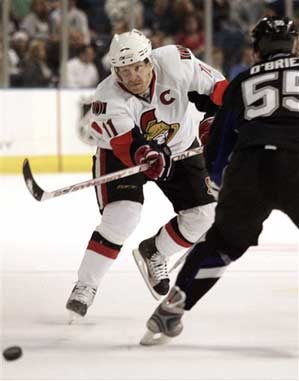 We are proud to welcome famed hockey journalist James Mirtle to the post of NHL Closer writer this week.
Senators Lose Seven In A Row, Oppose Goalie Marriage. I'm afraid it's a very special Canadian Closer™ today friends, with four back bacon-filled teams battling the evil American empire in Montreal, Toronto, Calgary and Tampa last night. (Which one of these is not like the others, which one doesn't belong...) Ottawa came back in the third period but lost 4-3 in a shootout in Tampa, continuing the team's longest losing streak since the year the Lightning crammed 28,183 hockey fans (every Canadian vacationing in Florida) into Tropicana Field (then known as the Thunderdome) for a game. Mad Max approved.
The Parade Will Begin At The Brass Rail. The Maple Leafs have had perhaps the strangest season of any pro sports club in recent history: Nude photos of rookies on shady corners of the 'net, a GM who can't fire his coach, a president saying he hired the wrong GM (but failing to fire said GM), and a fanbase that continues to fork over $400 a night to eat sushi and watch one of the worst teams in hockey. But Wade Belak did score his first goal in almost four years last night in a 3-1 win over Nashville. (Not counting a stint with something called the Coventry Blaze of the English Hockey League.) I then put a car flag on my tricked out Pacer and headed for Mirtleville.
These Wings Need A McCartney. Detroit's well on their way to establishing itself as the blandest regular-season dynasty of all time — and even their fans are no shows this season. The Red Wings downed Montreal 4-1, but it turns out Henrik Zetterberg's deft passing and a handful of Europeans with unpronounceable names can't trump "a tidal wave of foreclosures."
Hannu Loses Game He Loved. "It sucks, it really does, but it's gone now, there's nothing you can about it," Blues 'tender Hannu Toivonen said of a 3-1 loss to the Flames. "You have to learn from it and see what I can do better next time." Strangely, these were his exact words when he let the hockey monkey escape earlier in the season. (True, somewhat-related story: They taught a handful of chimps to skate for this film. Sadly, those efforts failed to win them an Oscar or a tryout with the Blues.)
Athlete of the Century Deemed Unwanted Goods. The Penguins dumped Kamloops native Mark Recchi and his $2-million contract on waivers yesterday, upsetting a hockey blogger and prompting city council to rename Mark Recchi Way to Doug Lidster Boulevard. Making matters worse, Recchi spent his own bobblehead night bobbling in the press box.