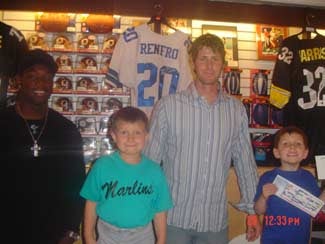 For years, we have been plagued by the scourge of John Maine impersonators. We have fallen prey to this ourselves; heck, just more than a month ago, we thought Maine had shown up at our door, asking not for a dress, but for candy. One would think we would have learned to have been more skeptical.
But, alas, it turns out that the Mets pitcher, who was exposed as a nightclubbin' crossdresser yesterday, says he's the victim of identity theft.
The Mets say pitcher John Maine is the victim of an impostor who has been asking women for their outfits. Thursday, a woman named Abby Cohen called the club Touch to get "John Maine" a table at their opening night. When the man arrived, he identified himself as the Mets pitcher and asked several young ladies if he could try on their dresses (even offering a reporter $200 for hers). Despite being "recognized" as Maine by doormen and publicists for Touch, the Mets insist that he has not been in New York since October and was in Virginia on the night of incident.
This is common, as we all know; for years, the Manhattan club scene has suffered the infestation of innings-eater impersonators, looking for women's clothing. Shame, SHAME on the club Touch for being so gullible.
New York Minute [New York Daily News]
John Maine Loves The Little Black Dress [Deadspin]