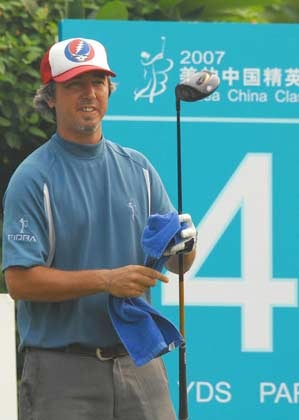 This handsome, vigorous young sprite is Bryan Saltus, a 37-year-old golfer on the Pro Asia Tour. This past weekend, he won his first ever tournament, in China. When he announced whom he was dedicating his victory to, he totally did not waste it, not at all.
He devoted it to the Grateful Dead.
"This is awesome. I would like to dedicate this win to the Grateful Dead, as they have inspired me all the way," said Saltus, who has attended 153 concerts.
The best line comes from blog Hidden Track, which points out, "he leapt into the water hazard on the 18th hole after winning, so we imagine that counts as his shower for the month."
Some Clever Tournament Starter Should Send This Guy Out With Mike Weir And Sergio Garcia [Hidden Track]