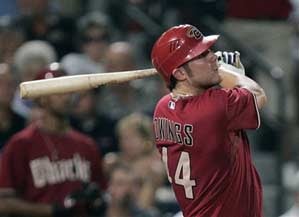 One of the stars of the Diamondbacks' improbable 2007 season was Micah Owings, the pitcher who could hit better than almost everybody else in Arizona's lineup. In the offseason, teams look for every advantage they can find, to fill every hole. The D-Backs are getting creative; they're thinking of putting Owings at first base.
Hey, whatever works.
Micah Owings' bat could get a little more play next season, and we're not just talking about pinch-hitting appearances. Owings, who last season made 27 starts out of the Diamondbacks' rotation and posted a 4.30 ERA, could find his way onto the field, perhaps at first base. "It's potentially, depending on how our roster looks, an option," manager Bob Melvin said Tuesday during a Q&A session with reporters.
As much as we might enjoy a Brooks Kieschnick situation, we know, oh how we know, that sometimes this doesn't turn out the way one might hope. It might be fun to see, though; we bet he hits better than Cesar freaking Izturis.
Diamondbacks Look At Interesting First Base Option [Cobra Brigade]