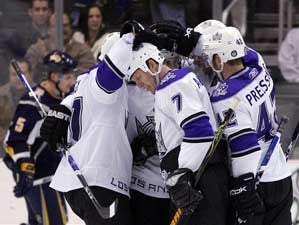 We are proud to welcome famed hockey journalist James Mirtle to the post of NHL Closer writer this week.
Being Barffaloed. Let me tell you friends, this closering business is a tough gig. You're up into the wee hours, penning a Carrot-Top-oeuvre masterpiece of links to Hockey Monkey and such, but when you roll outta bed on Day 4 of the operation and check the interwebs, said masterpiece isn't there. A red-eyed Leitch answers the door in his housecoat, whispers something about 'Nibbles being a cruel mistress,' and disappears back inside. Frankly, I hit rock bottom yesterday, me and the Buffalo Sabres and our mutual friend Jack. Rejected by Jon Quick, seven unwanted tallies pumped in the five-hole by the midway point, it's any wonder we're here to tell about it. Let's face it, who doesn't miss Chris Drury's stubbly cheeks?
Introducing Kazakhstan to America, One Goal At A Time. Big Kazakh Nik Antropov had a hat trick last night against the Rangers, and for a time the wire services were convinced it was his first ever. Not quite — the lanky one had only put eight years between his two three-goal performances. And unlike his famed countryman, he's not banned "in every Arab country except Lebanon."
Crosby Fails Miserably. Look, if we don't write that headline, no one will. Hockey's golden boy didn't walk on water last night in Calgary, and reports of the second coming, comparisons to a Gretzky-Orr hybrid and his own blogspots (?) — they're all premature, especially given he was out-monstered by Pierre McGuire lovechild Dion Phaneuf. The hockey pope's ceremonial first visit to Western Canada has officially hit a snag, and he still has to face Roberto Luongo on Saturday.
Sanford And Fun. Speaking of Luongo, there's no more underutilized athlete in pro sports than that of his backup 'tender, who barring a cataclysmic groin tear, is the world's highest-paid bench door opener. In any event, it's always an occasion when these guys are thrown in goal, and Curtis Sanford rose to it with a big win in Nashville last night. "Curtis Sanford did what a good goaltender is capable of doing," Vancouver coach Alain Vigneault said, looking up Sanford's name on the roster. "He kept his team in the game when they weren't there." (They were at the Opry.)
The Curtain Call It's been a blast moonlighting here on Deadspin, and I wanted to shut the show down by repeating some of the best comments - uh oh. Christ, it's Stephen A. Smith... maybe I can just slink around— HOC-KEY? I WANNA BE REAL ABOUT SOMETHING HEAH. SOME PEOPLE SAID I SHOULD BRING THIS UP YESTERDAY BUT I COULDN'T. I HAD TO BRACE MYSELF FOR IT BECAUSE I HAD TO SLEEP ON IT. I JUST HAD TO. I JUST WANNA MAKE SURE I'M COMPLETELY ACCURATE WHEN I ASK IF HOCKEY HAD BLACK PEOPLE, WOULD IT BE VIEWED AS A POOR MAN'S BASKETBALL ON SKATES EXCEPT YOU SHOOT AT A LOWER NET WITH A STICK AND THERE'S A GUY THERE TRYING TO STOP IT, AND YOU'RE ALLOWED TO HIT EACH OTHER AND YOU'RE WEARING MORE CLOTHES AND THERE'S MORE CANADIANS? WOULD IT NOT!? LET ME ANSWER THAT FOR YOU: I THINK SO! JUST SO YOU CAN GET THE FLAVA OF WHAT I'M TRYING TO SAY, HAVE IT CRYSTALYZE: MICHAEL ANTWAN GRIER SKATES LIKE AN ANCIENT WATERBEAST CARRYING A BUCKET BUT THAT BUCKET MAY SOON CONTAIN A HART TROPHY. ZDEENO CHARA JUST MIGHT BE THE SLOVAKIAN RAFAEL ARAUJO. GOALTENDING IS THE MOST UNDERREPRESENTED PENALTY IN THE HISTORY OF THIS OR OTHER SPORTS, AND I'M INCLUDING CAVEMAN GAMES. WHEN I THINK OF HOCKEY IT'S MOOSE AND BEAVER AND MAYBE BACK BACON, WHICH MEANS, AND HEAR ME OUT, CANADA NEEDS TO REPRIORITIZE ITS MEATS.