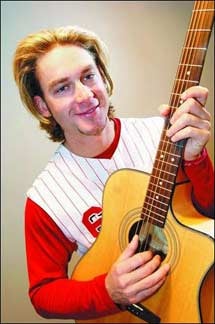 Last night, we saw the Majestic Rock that is The Sword. We left quite rocked. But we ain't seen nothin' yet; Bronson Arroyo is on tour.
Everybody's favorite, uh, something or other, is going to blast the Mohegan Sun in Connecticut with his unique brand of, well, whatever he does. His official site doesn't have much about his music, but it does feature him almost exclusively in a Red Sox uniform, which we suppose makes sense.
We can't think of much more that would inspire us to gamble, though, than hearing Arroyo's face-melting Creed covers.
Bronson Arroyo, Mohegan Sun Cabaret , Uncasville, CT [Ticketmaster]