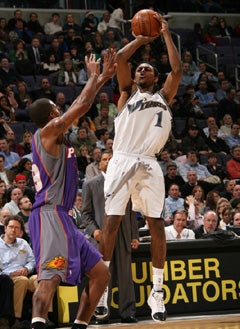 The Washington Wizards have played better than expected since the loss of Gilbert Arenas, but there wasn't much of anything they could do to stop Phoenix. The Suns recorded a flat-out ridiculous 42 assists on their 50 field goals. If I hadn't been there to see it I'm not sure I would have believed it. STEPHEN J. NASH handed out 19 assists that simply couldn't have looked any easier to convert. Every time he passed the ball it seemed as if it resulted in a dunk from Amare Stoudemire, a jumper from Grant three from Raja Bell (he hit all four of his attempts). The Wizards tried to keep things close, but their fate was sealed after being outscored 40-21 in a rather perfect third quarter by the Suns. Seven Wizards scored in double figures including Nick Young, who made his desire to compete in the dunk contest known when he rocked the cradle with two hands on breakaway. Brendan Haywood played 20 minutes and recorded two fucking rebounds, but hey, he hit a jumper! The Suns won 122-107
• Just get out of his way. Chris Paul led the New Orleans Hornets to a thrilling 118-116 win over the Memphis Grizzles with 43 points, leaving us to wonder whether or not he was honoring the life of a 43 year-old loved one. The young superstar didn't forget about his teammates, he sprinkled in nine assists as well. David West reaped the benefits scoring 27 on 9-19 from the field. The Hornets out-rebounded the Griz by nine thanks to 19 from blogger/center Tyson Chandler. Rudy Gay, Pau Gasol, and Mike Miller were all pretty great in a losing effort, yet somehow La Bomba played 13 minutes without jacking up a single shot.
• Tim Duncan is an unnecessary luxury. The Spurs continued their their utter domination of the Utah Jazz in San Antonio's AT&T Center without their big man, who is recovering from a tweaked knee. Manu Ginobli led the way with 37 points. He would have had a lot more but the refs only let him shoot 19 free throws. Killjoys!