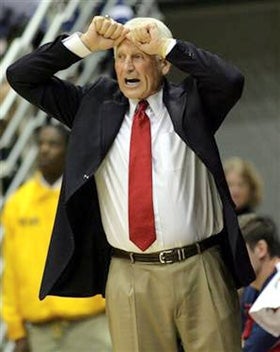 Arizona's basketball team is playing in Champaign Chicago right now without head coach, and that's something they'll have to get used to. Responding to mounting pressure from the media and within his own program Lute Olson announced that he won't return to the team this season, and now we know why.

One day after announcing that his leave of absence has extended throughout the 2007-08 basketball season, UA head coach Lute Olson has filed for divorce from his wife, Christine Torretti.

According to reports in the Arizona Daily Star and Tucson Citizen, the divorce was filed on Thursday in the Pima County Superior Court and it marks the end of a marriage that began in April of 2003.

Arizona's players and commitments were notified of the divorce on Thursday night before the team departed from Phoenix to Chicago for the Wildcats' game against Illinois on Dec. 8.
Lute's personal life has always been quite public in Tucson, and his relationship with Christine has been no exception. I find it odd that a divorce would force someone to take off an entire season, they are fairly common after all. Regardless, the Wildcats program is in good shape with or without the official campus Grandpa. Kevin O'Neill might be the perfect coach for this supremely talented roster. Hell, they'll probably be better off come March.
Fortunately Lute's family life hasn't been a cause of concern for Arizona's current recruiting class. None are expected to budge from their commitments, which is good, because Brandon Jennings is quite possibly the best high school player on the planet. Oak Hill's star point guard dropped 45 points on Booker T. Washington earlier this week. So when Lute comes back next season, he'll be coming back to this...