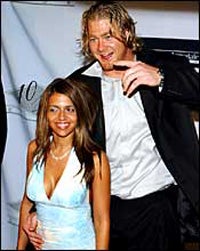 Craigslist is an almost endless source of entertainment if you're coming down off of a coke bender, otherwise it's good for the occasional laugh. Sometimes it's even a great source of information for the hot young trollops of New York who are looking for a chance to have champagne spilled on them by a drunk tight end.
Manhattan's hottest, newest nightclub is hosting Jeremy Shockey's New Year's Eve Party and we want to surround his guys with the city's hottest girls. If you think you can dress, dance, and drink the part, then please send one head and one body shot, as well as your name and contact info, to brunofierce@gmail.com. Free entry and open bar all night long to the ladies we select.
I hereby encourage all of our more buxom female readers to apply for this noble job. You know you want to go.
Don't forget your cameras.