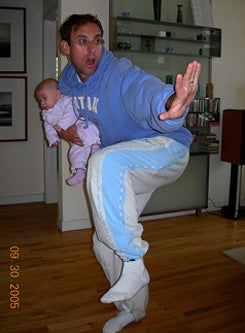 Why slog through the pre-packaged Heisman presentation show at 8 pm when you can just check the exit polls? It's not as if you'll wait for your November 3rd newspaper to find out who won the presidential election, you'd just check the exit polls. Fortunately a website out there in the vast internets called Stiff Arm Trophy has done the legwork of compiling all of the published (or otherwise leaked) selections made by Heisman voters all over the country.

* We count actual votes. We count only the picks from people who claim to be actual voters. (The organization doesn't release a list of voters, so we can't verify.)
* We make two assumptions. 1) That the voter turnout in each region will be equal, and 2) that the undisclosed votes in each region will mirror the publicly disclosed votes,
* Based on those assumptions, we total up the votes in each region and then extrapolate the totals.
* We continually update as more information comes in.
They've nailed the winner all five years of their existence, and they're pretty accurate at projecting the top five. With this information I'm ready to call it for the winner...after the jump (spoiler alert!)

Huzzah!
Check Stiff Arm Trophy for the "full" results.
Original photo via ABC News