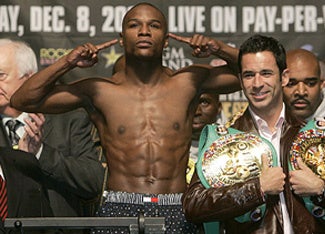 It should come as no surprise that I'm putting my support—and money—behind the best boxer on the planet, Floyd Mayweather Jr. The fight has never been short on storylines or hype, but when when Ricky Hatton sets foot in the ring with Mayweather he will simply be outclassed. The challenger makes for a great story, and an ideal opponent for the lighting fast champion. The average sports fan might have a natural inclination to cheer for Hatton. He's active, he's straightforward, and he's the whitest motherfucker alive. Of course none of that means he has anything more than a punchers chance, and against a Hall of Famer like Mayweather, that's rarely worth a damn.
Hatton fights are usually entertaining, another factor that adds to his support, but it's hard to ignore than oftentimes he comes out of his fights looking worse than his felled opponent. Additionally, the man who they call the Hitman has only defeated two top fighters and Kostya Tszyu and Jose Luis Castillo were on their way out of the sport after long careers. In his one fight against a seemingly game challenger Hatton was incredibly fortunate to escape with a win. On that night many observers felt that Luis Collazo might have been the superior fighter. Regardless, a guy like Collazo—while talented—isn't in Mayweather's stratosphere.
Hatton's goofy training methods (seen on HBO's 24/7) won't be worth a whole lot when he's trying to locate Mayweather's body. Pretty Boy is just too fast, too smart, and too strong to get hurt by any of Hatton's lunging body shots. As long as he doesn't allow the challenger to land uppercuts at will (not too likely) I don't see how Hatton can possibly control the fight. The only chance Hatton has to stop Mayweather is if the champion breaks one of his hands on the wanker's rock-hard skull.
My prediction is simple, Hatton will come out with the aggressive style to which he is so accustomed while Floyd will start slowly and look to position himself for an opportunity to counter. I'd say there's a decent chance that Hatton will take one or two of the first few rounds, but after that the difference in ability, speed, and power will make themselves evident. Mayweather will pick up the pace and the frequency of his flurries in the middle rounds and Hatton's face will begin to swell and cut, especially around the eye sockets and cheekbones. Ultimately I believe Mayweather will stop his challenger in the second half of the fight, most likely as a result of a TKO.
Official Prediction: Mayweather by TKO in the 8th.
Official Wager: Mayweather by TKO, KO, or DQ at 3.7/1
For a helpful breakdown on the betting opportunities check out Vegas Watch, and for the absolute best preview available check out Large's words at No Mas. Seriously, I cannot recommend that article enough. It is the best thing I've read on this fight all week (and it's obviously far superior to my own work).
Enjoy the fight everybody, I'll have a full breakdown coming up in the early morning hours.