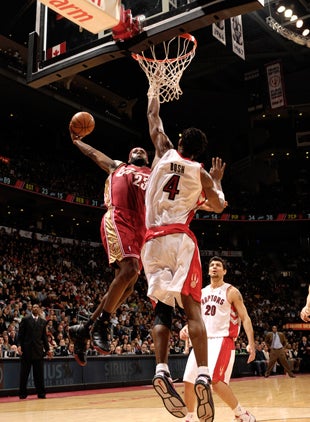 The NBA Closer is written by our Canadian weekend maestro J.E. Skeets. When he's not busy scouring the box scores or swimming beneath fire, he can be heard on The Basketball Jones daily podcast. Enjoy.
• Sunday Bloody Sunday. Dearest Sam Mitchell: Anthony Parker cannot stop LeBron James one-on-one. In fact, Anthony Parker — wielding a goddamn scythe — cannot stop LeBron James one-one-one. So hey, why don't you wise up, try coaching a little, and change your defensive strategy? Fuck. LeBron James scored 39 points, including 24 in the fourth, to help the Cavs rally for a 93-90 victory over the Raps. I was there in person. I was a witness.
• Advanced Search. Less than a week ago, Andrew Bogut told Bucks' beat reporters that he was "going to Google 'Win' or 'Learning How to Win'" to try and figure out what in hell was wrong with his team. Well, he must've found something. Bogut scored 25 points, including a short hook shot with 19 seconds to go, to lead the Bucks to a 93-89 win over the Cats. Charlie Bell added 27 for Milwaukee, in large part thanks to AltaVista.
• Boogie Afternoons. You're not going to believe this, but Dirk Nowitzki was caught staring at his penis during a few timeouts in the fourth quarter of yesterday's game. Yeah, he's back, baby! Diggler led Dallas in scoring for the ninth straight contest, scoring 30 points in 32 minutes, as the Mavericks dominated the Wolves 101-78. Minnesota has now lost eight in a row.
• The More Things Change, The More Things Stay The Same. Allen Iverson scored 38 points and the Sixers lose. Just like old times. (Denver 109, Philadelphia 96.)