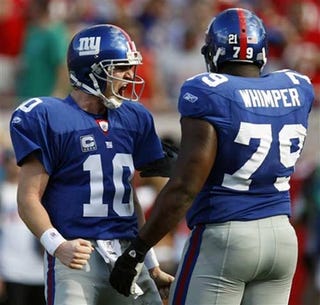 Look at that Eli Manning. Look at him! He's all fired up! He loves this game of football! It's so cute; Eli is PUMPED!
We were thinking about all the possible outcomes of this postseason, and we realized there was a chance that Eli Manning has a better chance to reach the Super Bowl than Peyton Manning. Heck, what if they both did? For all the talk about how that was supposed to happen last year, what if the Patriots' dream season storyline was usurped by the tired, but now unexpected, Manning brothers storyline. And here you thought you'd dodged that dreaded two weeks hype stretch ... it potentially returns, zombie-like, lurching forward.
Manning did look excellent yesterday, and we might be a little bit sold on the Seahawks finally. (At least enough to give them a puncher's chase against a suddenly wobbly Packers team.) It's fitting, really, that anyone seems capable of winning the NFC right now. Even Eli Manning. Doggone it, he might really like this game. Maybe.