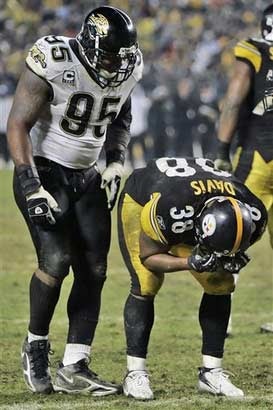 See, now this photo is just being mean. As if life after you've dropped a potential game-winning touchdown pass isn't hard enough; then you gotta have an opponent making fun of you about it. Tsk tsk.
For a while yesterday, we really thought Norv Turner was even worse than we thought; losing at home to a clearly ineffective Vince Young? (Bring back Kerry Collins!) The team pulled it together, but that Colts-Bolts matchup next week is decidedly less enticing that we think it could have been.
Meanwhile, we don't see the whole The Jags Are The One Team Who Can Scare The Patriots notion. That defense wasn't as scary as it was supposed to be, and that was against Ben Roethlisberger, not Tom Brady. The more and more we watch the AFC, the more it looks like it's going to be the same as it always is: Colts vs. Pats, Manning Vs. Brady, Dungy vs. Belichick, All That Is Right With The Planet Vs. Pestilence And Bile. As if it were ever going to be any other way.