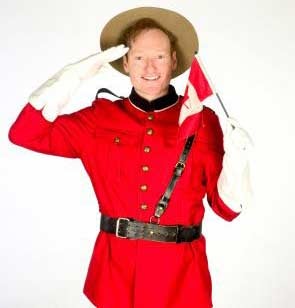 Jonah Keri writes the college basketball closer (more or less) daily. E-mail your questions, comments or Clarence Ceasar-related memories to jonahkeri@gmail.com.
This is my 11th year living in, as we native Canadians like to call your country, "the States." For 10 of those years, my stance on the American political process could best be described as bemused. I couldn't understand how many backers of the two major parties could be so openly hostile to each other. How could the media act like complete pushovers in the face of sketchy government practices? Most of all, I wondered why so many political pundits made so many stupid predictions, with nothing resembling facts or analysis to back up their crystal ball gazing.
But now, living here in the wilds of New Hampshire (home of the Live Free or Diner, but no Wiggumaroles), getting canvassed on a daily basis by various candidates and a short drive from shaking hands with the next president, I've become a political junkie. I've even come around on the idea of predictions. People simply crave them, in presidential races, for sporting events, hell, even to guess the number of Jäger shots it takes for me to refund my lunch (Answer: zero, can't even look at the stuff without Kelly Tripucka-ing).
The best part of predictions? When the predictor's wrong, the possibilities for ridicule are endless, whether in print or in classic Colbert mode.
All of this is a really long way of saying that starting today, I'm going to open myself up to a barrage of non-stop, merciless taunting by making daily college hoops predictions. I'll focus mostly on ranked teams and key conference match-ups, including mid-majors. I'll then track my record throughout the season to see how much I sucked, and we'll see if we can learn a little something about various teams based on expected vs. actual results. I'll keep two tallies, one to track my record straight up, one to see how often I peg the result within five points (no point spreads here, because betting on sports is ummm...really bad, I guess?). One more thing: The comments next to each prediction will be on the short side. Frankly, with Will paying me in Mel-O Cream Donuts gift certificates, I can't afford to write longer. As always, feel free to e-mail me here if you want deeper analysis/kibbitzing.
SHHHHWWWRRRRAAAAAAAGGGGGGHHHHAAAA!!! That's roughly the sound I made when Wayne Ellington knocked down a wide-open three with 0.4 seconds left to give North Carolina a heart-stopping 90-88 win over Clemson in overtime. Earlier in the possession, the Heels looked out of sync, prompting Roy Williams to call a timeout with 5.4 seconds left. When play resumed, Ty Lawson got the ball 30 feet from the hoop. As soon as he started to drive, three players hedged over to get him, leaving Ellington open on the left side. Lawson swung the ball over, Ellington caught it in rhythm, and that was that. Credit Williams for expecting the Tigers to collapse on the ball, and Ellington for having the game of his life, going for a career-high 36 points, including 5-of-8 from behind the arc. Tough break for Clemson, who could've established their bona fides, and their claim to top-three status in the conference, if they'd held on. I was rooting for Clemson to pull the upset, but it was still pretty unbelievable to witness that buzzer-beater. Sweet Buddha do I love college basketball.
Lots of turnovers, and not the delicious kind those Amish ladies make at Reading Terminal Market. No. 13 Pitt matched its season high with 22 of 'em, including a giveaway by Ronald Ramon before he could get off the final shot, as the Panthers fell 64-63 to Villanova on the Main Line. The play was the same one Pittsburgh ran at the end of their big win over Duke, only this time it failed with floor general Levance Fields out with a broken foot. Big win for No. 17 Villanova, which might leapfrog both Pitt and Marquette (losers to West Virginia) when the next round of polls come out.
America East, Represent! Senior guard Brian Lillis tossed in a game-high 29 to lead Albany to an 80-79 win over Vermont in an overtime thriller. The win evened the Danes' conference record at 1-1, after a loss last week to my UNH Wildcats. After seven non-conference losses to start the season, Albany will need to win its conference tournament to make the big dance for the third year in a row. Meanwhile, Vermont is in rebuilding mode after winning the America East in 2003, 2004 and 2005 on the backs of Taylor Coppenrath and T.J. Sorrentine. Yes, that's Deadspin, your home for discussion of college basketball games and conferences that only a lunatic like me—and maybe the players' moms—would ever think to watch.
Prediction: No. 16 Butler 73, Loyola (IL) 62. Just one pick today, with only one ranked team in action. Butler returned most of its key players from last season's Sweet 16 run, and could be the best mid-major in the country, assuming we're not counting Memphis. Even on the road, the Bulldogs should have little trouble with a Ramblers team that ranks 249th on offense and 288th on defense. Topic for discussion: Is A.J. Graves the ugliest elite player in college basketball today?
Oops. In Friday's Closer, I wrote that Cal's DeVon Hardin was coming back this season from knee surgery. In fact, he missed most of last year with a fractured foot. Thanks to Dan Lachman of The Bear Insider for setting me straight. As penance for my grievous error, I invite Mr. Hardin to dunk on my head, repeatedly. Just please, don't make me your Paulus.