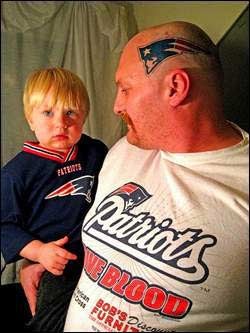 We have always been wary of getting a tattoo of anything involving sports fandom, mainly because: a) you never know when your team will betray or your favorite player will end up murdering his houseboy; and b) tattoos really hurt, and we cry easily. But one Patriots fan has no such qualms.
He's actually getting an exact — "exact" being a relative term — replica of Tom Brady's helmet tattooed on his bald head.
The inking process took about one and a half hours and is part of an overall goal that has Thompson set on turning his entire head into a replica of Patriots quarterback Tom Brady's helmet. He has plans to get an identical emblem on the other side of his head and Brady's number 12 on the back of his skull.

Thompson isn't shy about the fact that he got the idea to turn his head into a helmet while serving time in prison where he watched all of their games in past seasons.
Oh. Prison. Yeah, we suppose that makes sense.
Loyalty Goes To His Head [Fosters.com]