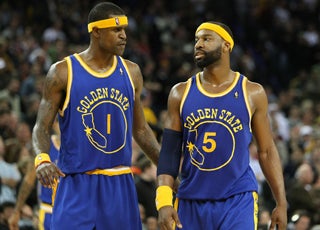 The NBA Closer is written by our Canadian weekend maestro J.E. Skeets. When he's not busy scouring the box scores or mastering "Vasoline" in Rock Band, he can be heard on The Basketball Jones daily podcast.
• Stay Away From Me, Heavy Machinery! Warning: I'm running on less than four hours of sleep thanks to this overtime thriller, so if I cut my arm off with a table saw, or get my hair caught in the lathe again, well, you can blame Baron Davis or Stephen Jackson. Davis had 34 points and 14 assists — creating offense on nearly every damn possession in the final 10 minutes — as the Warriors held off the Spurs 130-121. Jackson, who rallied from a terrible start to finish with 29 points, hit two free throws and two big 3-pointers in a 56-second span of overtime. Clutch. The loss was San Antonio's second at Golden State in four weeks.
• Clumsy Waiters. General manager Steve Kerr had a little "talk" with his Suns before Monday's shootaround, telling them to go out and hit a shitload of threes. He's such a great motivator. Shawn Marion scored a season-high 27 points, had six blocked shots, and hit five of Phoenix's 20 3-pointers to lead the Suns to a 137-115 romp over the Nuggets. Reserve guard Marcus Banks made a career-high seven 3s — in eight attempts — en route to a season-best 23 points. The Suns' 20 made 3-pointers matched a franchise record and were just one Piatkowski garbage-time-bomb shy of the NBA record set by the Raptors in '05. (Pop that champagne, Donyell Marshall!)
• The Big Broken. Shaquille O'Neal flew yesterday to Los Angeles to seek medical treatment for a hip injury that has sidelined him the past five games. O'Neal bruised his left hip Dec. 22 when he fell for a loose ball and slid into the scorer's table. He aggravated the injury a few days later in a wild foursome.