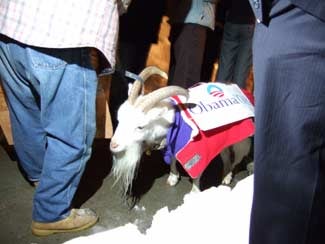 Jonah Keri writes the college basketball closer (more or less) daily. E-mail your questions, comments or Clarence Ceasar-related memories to jonahkeri@gmail.com.
It's primary day in New Hampshire, an exciting time here in the Granite State. Since I already used tortured logic to create a flimsy comparison between politics and college basketball in yesterday's Closer, I'll skip the exercise today. Just tell me this: Why is it that when, say, Chris Webber calls a timeout he doesn't have and costs his team a national championship, we call him a goat? Take a look at Binx, a cute-as-a-button goat from Dover (photographed by my wife at Obama's appearance in nearby Rochester last night)—why make him the bad guy? We need a new term to describe someone who blows it, in sports or elsewhere. I'm thinking of some kind of truly despicable creature. Suggestions welcome.
"I'm not even going to make fun of you anymore!"That's what one Kansas State fan yelled out late in last night's 85-25 annihilation of Savannah State. The Tigers missed their first 15 shots in the second half, as Kansas State went on a 35-1 run. All told, Savannah State scored just four points and shot just 4.3% from the field (1-for-23), the worst figures since the introduction of the shot clock in 1986. The Tigers' one second-half field goal also tied a record.
Fly Eagles fly, on the way to victory losing to an NEC school at home. There's got to be a way to give Jared Dudley an extra year of eligibility, no? After getting crushed by Kansas in Chestnut Hill Saturday, Boston College let Robert Morris have a whack at the piñata, as the Colonials knocked off the Eagles 57-51. BC committed 20 turnovers and made just two of 13 from behind the arc. I was all set to give Robert Morris more credit for bagging a big win on the road against an ACC team, but then I saw this photo. So uhhh...what exactly is Robert Morris coach Mike Rice proposing to the ref anyway?
Predictions. Kudos to Butler for scoring an 11-point win over Loyola (IL) last night. And kudos to me for using up my entire allotment of dumb luck for 2008, by predicting an 11-point win for Butler. I look forward to starting my streak of prognosticating futility very soon...maybe even tonight!
No. 7 Georgetown 70, DePaul 64 Great start to the Big East season for DePaul, with wins over Villanova and Providence at home. They'll keep it close against the Hoyas, but Georgetown will prevail, backed by leading scorer and Jeff Green stand-in DaJuan Summers.
Missouri State 61, Wichita State 54. The Shockers are in rebuilding mode after losing big men Paul Miller and Kyle Wilson in the past couple years. Missouri State also lost top gun Blake Ahearn to graduation, but senior forward Deven Mitchell should create enough match-up problems to get the Bears a W.
Record: 1-0
Results within five points: 1-0