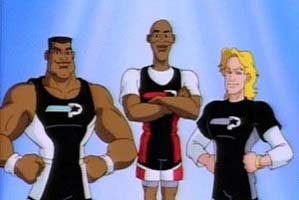 The NHL Closer is written by Greg Wyshynski, of The FanHouse and The Fourth Period. He is also the author of Glow Pucks And 10-Cent Beer. Enjoy.
LeBron Loves The Crosby Show. Quite frankly (tm, SAS), the NHL's burgeoning mainstream acceptance can no longer be ignored. First came the universal love for the Winter Classic from fans who have yet to let the light of hockey into their hearts. Now, none other than LeBron James has lathered Sidney Crosby with his formidable street cred, which I believe smells like Sprite Zero: "I know they compare him to me and I'm excited to be compared to a guy who plays the game the way he does."
While I'd like to believe this has everything to do with the sudden, booming crossover popularity of the NHL ("Fuck yeah!" - Bettman), I think Bron Bron has an obvious and ulterior motive: Forming his own "ProStars" team of cartoon super friends.
You remember "ProStars," right? Saturday morning animation at its cheapest, with Michael Jordan, Bo Jackson and Wayne Gretzky fighting crime and helping children in need. (The voice of Gretzky? Done by the voice of Michaelangelo from "Teenage Mutant Ninja Turtles." True dat.) Look, I think we can all agree that LeBron seeks an MJ level of mythology. But his commercials are good-but-not-great and he doesn't have a ring. His best plan of attack would be to succeed where Jordan failed; and unless he plans to get and stay married for 18 years or he's good enough to advance to AAA minor league baseball, I think making a kick-ass cartoon is the best option.
"ProStars: Version 2.0." LeBron James, Sidney Crosby and...well, there isn't a two-sport star to fill the Bo role. Maybe A-Rod for the multiculturalism? Peyton Manning for the comic relief? My vote would be for Roger Clemens, who's become a bit of a cartoon these days anyway.
This is all contingent, of course, on Crosby actually have time for such piffle. He's a cover model, after all. Have you ever noticed that Crosby looks like they dunked his head in Soul-Glo before every publicity picture? Maybe he has that hair that just looks awkward when dry; like Eddie Van Halen, whose hair looked like Moose's from "You Can't Do That on Television" when it wasn't sweated down.
Mr. Hull, Your Neck Is on the Line. Parity, you are a wicked mistress. Here I had the Dallas Stars in a death spiral in yesterday's Closer, and they defeat Minnesota, 3-1, last night to snap a four-game losing streak and tie San Jose for first place in the Pacific. Winger Antti Miettinen, who is on track for a career year, had two goals.
But the big news out of Big D yesterday was Ambassador of Fun/Co-General Manager Brett Hull announcing that center Mike Ribeiro, 27, had signed a five-year, $25 million contract extension that would keep him from unrestricted free agency. "Watching him play, I don't see a decline. I don't see this as a one-hit-wonder season. This kid is skilled, he's increased his conditioning and strength, and that will only improve," Hull said.
In a way, Hull's right: Ribeiro isn't a one-hit wonder ... he's a no-hit wonder. He's on pace for a career year thanks to a few torrid streaks this season that have given him 21 goals and 46 points; but that career year is only 65 points anyway. While he's developed a nice chemistry with Brenden Morrow, there's absolutely no way he's a $5 million-a-year player.
In Hull's defense, someone was probably going to give him that number anyway in a paltry unrestricted free agent market. And maybe Hull's correct, and Ribeiro's coming into his own. Then again, signing a soon-to-be UFA to a long-term deal based on a career year is a risky scheme; less than two years after inking Dwayne Roloson to a three-year deal, he's holding Mathieu Garon's water bottle in Edmonton.
The bottom line is that there's a better chance of Ribeiro regressing back into an enigma who acted like a little bitch after leaving Montreal than progressing into a top center in this League.
Puck Headlines
* Seriously, there are, like, 10,000 games tonight. [NHL.com]
* Fuck an "upper body injury." If a guy's got a concussion, the Rangers are going to tell you he has a concussion. [New York Times]
* The Toronto Maple Leafs might be one of only two or three teams that could be sellers around the trade deadline. But Sundin makes it clear: He ain't no "Rent-a-Mats." [Toronto Sun.]
* Here's something you'd never hear from Bob "Bobby" Clarke: A Flyers G.M. bashing his own player for sucking-punching an opponent. [Mirtle]
* Live-blogging a game from 1996 is a genius idea. I eagerly await Television Without Pity giving me the blow-by-blow of an episode of "Newhart" from 1982. [Taking One for the Team.]
* Finally, heeeeeeeeeeeeeeeeeeeeeeeeeere's Jesus: