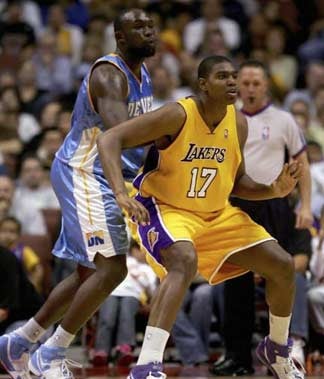 Every two weeks, the gents at Free Darko will be taking a look at the deranged ecosystem that is the National Basketball Association in their own indelible fashion. Here's this week's entry, from Bethlehem Shoals.
Enjoy.
——————————————-
Let me be very clear, and move my mouth so you can see it: I do not, and never have, supported the destruction of Americans at home or abroad. I do, however, find the subject of terrorism fascinating, especially insofar as it helps us better understand the 2007-08 NBA season.
So far, no teams have surprised with more force than the Lakers and the Blazers. Kobe was looking at the front the door; even when healthy, his supporting corps hardly stunk of championship. Now, with Andrew Bynum becoming a man before our very eyes, that team's just under the Western elites. Between Young Drew and Kobe, that's not a team anyone wants to draw in the first round. It doesn't hurt that they're coached by Phil Jackson, can allow Odom to be the third option he prefers to be, and have Derek Fisher smoothing over any rough spots.
The Blazers might be even better, and certainly make for a better story. Shorn of Oden, they'd been projected as shoo-ins for Michael Beasley (I can't quite remember if anyone had looked at Seattle's roster yet). Brandon Roy was a default ROY, and LaMarcus Aldridge was supposed to be a secret handshake among League Pass subscribers. Instead, these two exceeded expectations, the rest of the team came to life, and the Blazers will make the playoffs like the Grizzlies used to.
Key to both of these sweet stories is the NBA's answer to the sleeper cell: The stashed high school prospect. They may no longer be letting high school kids into the league, but past picks still lurk—uncertain and bemused. When Garnett and Kobe were the standard, teams figured three years till stardom. Then Jermaine O'Neal emerged in Indy after four years on the Portland bench, setting a new benchmark for big men. Tyson Chandler waited a half-century to mature. And LeBron blew everything out of the water, since he was one of the league's ten best players by the end of his first game.
By the time 2005 rolled around, and one last group of fledglings were allowed to sidestep the college experience, the prevailing notions were a diaphanous mess. Now, scattered across the league are promising young players whose development is an outward mystery. In the absence of a "this is how they grow up" template, the likes of Bynum, the Blazers' Travis Outlaw and Martell Webster, Shaun Livingston, Andray Blatche, C.J. Miles, Louis Williams, and Amir Johnson, occupy a roster space, get a few minutes, and may go seasons on end as the proverbial "incomplete."
Then one day, everything starts to fit together, he looks at home on the floor, and that team suddenly has a quality piece to work with. That's what happened with Bynum, and suddenly the Lakers matter again; with Outlaw discovering how to use his prodigious length and leaping ability to make jumpers, and Webster nailing threes like crazy, the Blazers now have a virile bench. Out of nowhere, these players make the difference that, on that magical night so long ago, we'd all thought they could make.
Here's where the sleeper cell part comes in: None of this is ever as surprising to the organization as it is to fans, media, or opponents. When the team gives half a lipless fuck about developing talent—whether it's hiring Kareem to babysit Bynum or letting Outlaw take five years to come into focus—they're up on this process in ways an outsider will hardly ever have access to. And in this post-Chandler world, it's understood more than ever that this kind of player won't grow up on his own. How and when they come into their own is a function of an engaged, invested front office.
The ultimate extreme of this is the Pistons signing Amir Johnson—the last high school player ever taken, who played only 124 minutes total in his first two seasons—to a three-year, $11 million contract only to stick him back on the bench. Or the Wizards giving Blatche $15 million for 5 years, so he can sit behind Brenda Haywood until he's ready to redeem all that Darius Miles was supposed to be. This kind of long-term investment shows that, with these inchoate players, the smartest teams aren't keeping them around for the hell of it. They have a plan, and these are valued operatives. It's only to the rest of the league that they appear lost souls, miscreants, and cautionary tales.
These guys aren't sentimental favorites, cult heroes, or good names for a fantasy team. They're secret weapons lying fallow, and within five years we'll all be wearing their jerseys, or be dead by their hand.