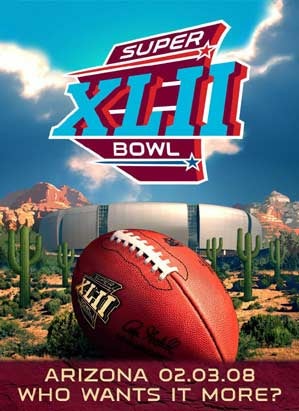 We are put a wee 19 days from the Super Bowl, held in the Pink Taco in Glendale, Arizona. And we are very pleased to announce that, for the first time, we will be attending.
No, no, we're not going to the game or sitting in the press box or anything; that would require having to share a buffet with Skip Bayless, and nobody wants that. But we are in fact heading to Arizona for the Super Bowl festivities. We'll arrive in Phoenix on Tuesday the 29th and will be filing daily, extensive reports from all the madness of Super Bowl week. (We will also be writing daily columns for our friends at The Sporting News, but more on that later as well.) But we're not just there to bring you enlightenment; we're also there for book promotion!
God Save The Fan will be released January 22, just a week-and-a-half before the Super Bowl, and the Big Game will serve as our big promotional kickoff. Our first minor event will be at the Changing Hands bookstore in Tempe on Wednesday, January 30, but that's not the real event; that's for people who need cheap sudoku alternatives.
The next night, on Thursday, January 31, we are proud to be hosting the Official Deadspin Super Bowl Party at Zipps Sports Grill in Scottsdale. Super Bowl parties are always exclusive, closed, private affairs, with a bunch of people milling about hoping to sneak a peak at Trey Wingo. NOT OUR PARTY. Ours will be free and open for anyone in the area; we do, after all, have a book to promote.
Expect more details in the upcoming weeks, but as for now ... we'll see you in Glendale. Pink Taco or bust!