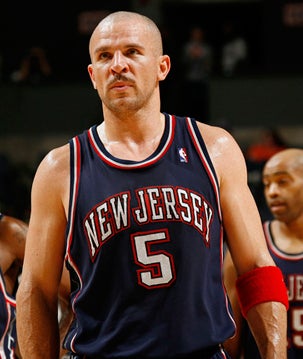 The NBA Closer is written by our Canadian weekend maestro J.E. Skeets. When he's not busy scouring the box scores or time traveling, he can be heard on The Basketball Jones daily podcast.
• Great Moments In Mustacheland. Jason Kidd, seen here with shit on his face, became the first player since Grant Hill in '97 to record three straight triple-doubles. The eight-time All-Star racked up his 97th one with 13 points, 12 assists and 11 rebounds in New Jersey's 115-99 loss to Charlotte. But more importantly, the American Mustache Institute, an advocacy organization fighting discrimination against mustached Americans, have taken action to defend Kidd's "new and rather delicious mustache" from the scrutiny of ESPN and Vince Carter. Hilarious stuff.
• McGrady SchmcShmady. It hurts someone to say this — probably McGrady — but the Rockets are honest-to-MJ a better basketball team without T-Mac in the lineup. They push, drive and pass the ball so much more. It's actually refreshing to watch. Luther Head's season-high 24 points and Skip to my Lou's double-double led Houston past Washington 92-84, the Rox third consecutive win. Yao scored 21 points for Houston, which is now 5-2 since McGrady went down with a knee injury.
• Kobelias. 'Lil Derek Fisher scored 26 points in the Lakers' 117-101 victory over the Grizzle, making 10 of 11 shots from the hardwood. Or so the stats read. "He was actually 10-for-10," Kobe Bryant chimed in. "They need to take away that one miss they gave him. That was a lob to Andrew (Bynum). It wasn't a shot." Bryant added 25 points in the Lakers' 13th win in 16 games. I mean, 125. Kobe scored 125 points ... in the Lakers' 43rd win in um, 12 games. Yeah, that's it.
• No Bull. Former Chicagoans' Eddy Curry and Jamal Crawford scored 29 and 24 points, respectively, as the Knicks rallied to beat the Bulls 105-100. Stephon Marbury, who finished with 18 of his own, sealed the deal with a straightaway three to snap the Knickerbockers' seven-game slide into oblivion. Luol Deng missed his second straight contest with Achilles' tendinitis.