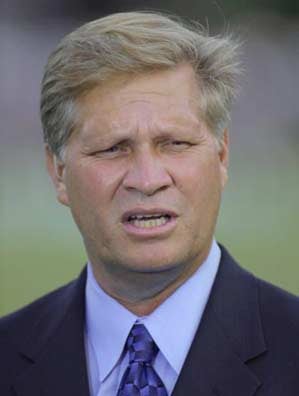 Some scary news from those storms in Arkansas: It appears everyone's favorite NFL scoopster lost his house.
Chris Mortensen woke up yesterday morning to learn most of his home and landscaping had been destroyed.
What was once a tranquil home for Chris Mortensen and his family, turned upside down during Monday night's bout with severe weather. "I didn't know what happened until I woke up in the morning. I looked around, and told my wife, 'you need to get up.' I don't think she was too excited to look at it all," says Mortensen.

It may take up to six months to clean everything up. But in the meantime, he says he will be better prepared the next time a storm hits. He says, "I'm a light sleeper, but you can't worry about this kind of stuff. God's in control, and he's protecting us."
We wish Mortensen luck in reconstructing his home; we've had family members' homes destroyed by tornadoes in the past, so we know how awful that can be. We just feel extra bad for Mortensen, because he had just reported that, according to sources, his house was going to be just fine. Hey, it happens.
ESPN Analyst's Home Damaged
Play Media [NWAhomepage]
(Note: "NWAhomepage" is, sadly, not about the old rap group.)