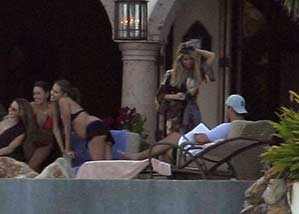 No matter how excited you might be for Sunday's Cowboys-Giants game, we assure you, your 16-year-old mistress niece is more so. Because she wants to see if Jessica Simpson is going to be there. (We think. Honestly, we don't know any teenagers. Swear.)
Anyway, the talented and versatile Ms. Simpson has not announced whether or not she's going to be in Irving for the game this Sunday, so Vegas is, as they tend to do, putting odds on it.
Yes (Must be shown on TV) -120
No (Any wagers placed after the result is public knowledge will be no action) -120
You Been Blinded points out that Romo and Simpson could make some serious cash simply by betting and then having her show up. (Or otherwise.) Would that count as gambling on football? We wouldn't think so.
Will Jessica Simpson Be At The Cowboys Game? Bet On It [You Been Blinded]