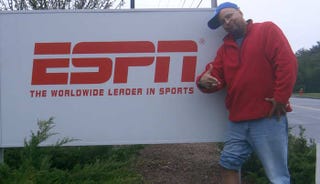 So, you know how we asked for submissions to the ESPN Accountability Record a month ago, and then never got around to publishing it? Well, we're gonna finally do that today.
So, here is the first entry of the ESPN Accountability Record. We're gonna go ahead and say this is "monthly" now, so please, as always, email us all ESPN corrections, since they haven't updated in 2008 either.
ESPN Corrections, January 2007
• In 2006, Gregg Easterbrook wrote "When I've looked at Cowboys' rosters since Jerry Jones bought the team, I have not seen a premium young quarterback in waiting. (Aikman was already there when Jones made his purchase.)" Jerry Jones bought the Cowboys on February 25, 1989. Troy Aikman was drafted on April 23, 1989.
• In a December 2006 column, Bill Simmons refers to a football Web site as "Cold Football Facts." The name of the site is "Cold Hard Football Facts."
• Gregg Easterbrook refers to the Patriots the "Flying Elvii," which is not the plural of Elvis. It's not Elvus. It should be elVES, like crisis-crises, basis-bases, axis-axes, etc.
• In December, Marcellus Wiley referred to coach Bobby Petrino's acts as "apprehensible." The correct word is "reprehensible."
• Phil Hughes was drafted in 23rd overall in the 2004. He was not undrafted.
• On College Football Live, Bob Griese said Alabama would not contend next year because they have "lost a bunch of players, including their quarterback." Alabama's starting QB, John Parker Wilson, is a junior and will be back next year. In fact, no QB on Alabama's roster this year was a senior.
• On that same program, a mock ad was mentioned advertising for a new UCLA football coach. One of the proposed requirements was "No WAC whoopings." UCLA had no WAC team on their schedule; Utah is from the Mountain West Conference.
• Legal analyst Roger Cossack, on the day of the Mitchell Report, referred to Jason Grimsley as "Jason Priestley."
• On a "SportsCenter," ESPN anchor John Anderson said Reggie Harris would be the interim head coach for the Arkansas Razorbacks for their Cotton Bowl game in Dallas on Jan. 1. The man he was speaking of, however, is actually Reggie HERRING, the Razorbacks' defensive coordinator who was named interim.
• The Pro Bowl running back for the Eagles is named BRIAN Westbrook.
——————————
All told, not too bad for the WWL. We bet you can find more this month.