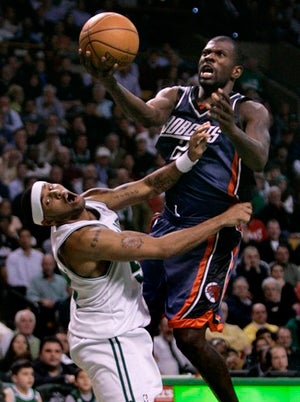 The NBA Closer is written by our Canadian weekend maestro J.E. Skeets. When he's not busy scouring the box scores or voting Benson '08, he can be heard on The Basketball Jones daily podcast.
• The Cat's Peow. Fact: Though the bobcat prefers rabbits and hares, it will hunt anything from insects and small rodents to deer and leprechauns in bowties. Jason Richardson scored 34 points and Gerald Wallace added 15 as the Bobcats stunned the Celtics 95-83 for just their fourth loss of the season. The defeat snapped a nine-game winning streak for Boston and spoiled its bid for the fastest start in team history to 30 wins. OK, your turn, Jaguars. Meow.
• Chutes And Ladders. Mo Williams scored a season-high 35 points in 48 minutes as the Bucks beat the Heat 98-92. D-Wade had 34 points for Miami, which lost its ninth straight. Meanwhile, in Portland, the Blazers made it 12 straight at home with a 109-91 win over the Warriors. The Rip City faithful got a scare in the second when Brandon Roy appeared to injure his right knee. He crumpled to the hardwood and had to be helped off. But he was just kidding. Ha! Roy returned and started the second half.
• Back To Life, Back To Reality. ♫ However do you want Ming? However do you need Ming? ♫ Yao scored 36 points as the new and improved T-Mac-less Rockets beat the Knicks 101-92, with Rafer Alston skipping in a cool 20 points. New York snapped their one-game losing streak. Coach Isiah was ejected in the opening minute of the final quarter when he came onto the floor to argue with referee Eric Lewis over the constitutionality of online cockfighting videos.
• Teamwork On Three. Steve Nash was too sick to keep playing, Grant Hill was in the hospital, and still the Suns managed to rally from 16 down to beat the Pacers 129-122 in overtime. Hill underwent an appendectomy and is expected to miss two to three weeks. So, whoever had 34 in our Hill's games played pool, congrats. Your case of Sprite is in the mail.