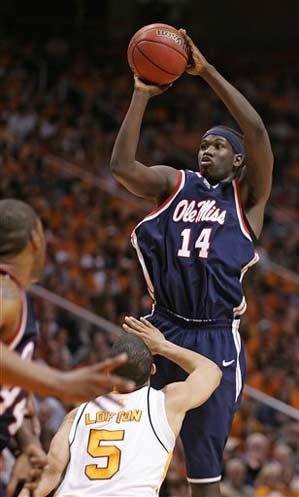 Jonah Keri writes the college basketball closer (more or less) daily. E-mail your questions, comments or Clarence Ceasar-related memories to jonahkeri@gmail.com.
And then there were five. No. 8 Ole Miss fell from the ranks of the unbeatens, losing 85-83 to No. 16 Tennessee. The Rebels had all kinds of chances to win, erasing a 12-point Vols second-half to go up four with just over two minutes left. Then with less than a minute to play, Ole Miss put up four shots, grabbed four offensive rebounds, got to the charity stripe — and kept away with bubkus. Tyler Smith then slashed through the Mississippi defense, converting a layup with 4.2 seconds left to win it for Tennessee. The Vols were one of my Final Four picks at the start of the season, along with North Carolina, UCLA and potentially Domenic James-less Marquette. Sorry, Fairleigh Dickinson, I just wasn't feeling it.
Wait, the season doesn't end in December? No. 18 Clemson took another step toward duplicating last season's collapse, losing 82-72 to Charlotte at home. The Tigers started the 2006-2007 season at 17-0 before falling apart and failing to make the NCAA tournament. After losing a heartbreaker in overtime to North Carolina, Clemson came out flat in a non-conference game against Charlotte and will now likely fall out of the Top 25. The A-10's plan for world domination remains right mostly on schedule. A 100-100 Dayton-Rhode Island tie last night would've helped, though.
Worship the Devils. Superfrosh James Harden poured in 26 points as Arizona State upended Arizona 64-59 in overtime. The Sun Devils got the Wildcats without Jerryd Bayless and Bret Brielmaier last night, in front of the home crowd in Tempe. Still, the addition of Harden to last year's grinding defensive squad gives the 13-2 Devils a puncher's chance to rise in the Pac-10. Maybe we should group all Phoenix-area teams with lousy track records into the Buzzsaw category and be done with it.
Predictions. On Tuesday, I picked Georgetown to win at DePaul by six and Missouri State at home over Wichita State by seven. Despite a 2-0 start in conference play, the Blue Demons couldn't hang with the Hoyas, falling behind 46-25 at halftime en route to a 76-60 loss. Meanwhile, Dale Lamberth poured in 27 points off the bench to lead Missouri State to a 71-47 blowout win over Wichita State. Add two more wins straight up to the prediction totals, but two ugly losses on the "Results within five points" side of the ledger.
No. 4 Washington State 63, USC 55. A year ago, this would've made a great upset special pick, with Nick Young, Gabe Pruitt, Lodrick Stewart and Taj Gibson providing balanced scoring and USC executing on both ends. Now, the Trojans are a young, often disorganized team. O.J. Mayo's getting his points, averaging better than 20 a game so far this season. But he's alternately being too passive and taking too many bad shots, depending on the stage of the game. The Cougs' experience and balance should be enough here, setting up a monster game Saturday at UCLA.
Boise State 78, New Mexico State 72. Nice early-season match-up between two 2-0 teams in the WAC. I was all set to pick the Aggies, but New Mexico State digested two more player arrests this week, after a DUI arrest and two player suspensions earlier this season. Too much to handle against a game Boise State team with a shot at winning the conference now that Nevada and others are in rebuilding mode.
Record: 3-0
Results within five points: 1-2