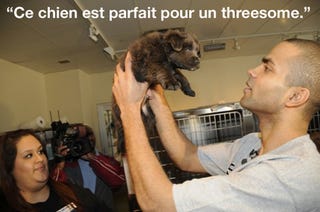 The NBA Closer is written by our Canadian weekend maestro J.E. Skeets. When he's not busy scouring the box scores or wearing medallions, he can be heard— BANGING HIS GRANDMA IN THE BREAKFAST NOOK! Hi, I'm AJ Daulerio. The Balls. If you're wondering what's going on here, Skeets is off riding around with a vacuum salesman, leaving me in control of today's NBA Closer. Thanks for the extra $5, Denton!
So, this morning, I'm unlacing my Kevlar Air Force Ones, showering with my jorts on and placing odds on how much you'd rather of been "grouting the tile" instead of watching last night's games.
Let's go dribble some basketballs and body fluids after this hyper code.
Detroit at San Antonio: 2/1
When Rasheed Wallace wants to dominate a game, shuffling your iDick can always be put on hold. (Press and hold the tip for three seconds. It'll power down.) "We could lose five or six games in a row, but we're the type of team, we don't hang our heads and walk around moping," said Sheed, who had 23 points and 15 rebounds to carry the Pistons to a 90-80 victory over the Spurs. "We're much too busy ejaculating in Walter Herrmann's shampoo bottles anyway." Detroit snapped a two-game losing streak, and handed San Antonio their second loss in a row at home.
Memphis at Sacramento: 4/1
You know how I know you're Gay? You scored 31 points, grabbed seven rebounds and made two costly mistakes in a 116-113 loss to the Kings. That, and your first name is Rudy. Down 113-111, with 7.9 seconds to go, John Salmons found Francisco Garcia on the baseline for a go-ahead 3-pointer over the outstretched hand of Griz forward Gay. On the following possession, Gay made another boo-boo, losing the ball on a drive to the basket. Brad Miller free throws. Game. But hey, at least it was close. Drama and excessive timeouts arouse me.
Phoenix at Utah: 1/2
No Steve Nash (flu). No Grant Hill (appendectomy). No Shawn Marion (computer hacking). No Andrea Kirilenko (bitch). No Matt Harpring (bitch, in labor). Oh, gee, thanks. Fuck! What a boring game. Utah ran with Phoenix early and by the third quarter the fatigue and the glaring holes named Banks and Piatkowski in the Suns' lineup ultimately showed. Final score: Jazz 108, Suns 86. AKA a blow out. AKA what you were doing all over the ceiling. AKA looks like someone has been pounding the omega-3 oils! Nice shot, brotha!
[This is just a tribute. You gotta believe it! Best of luck, AJ!]