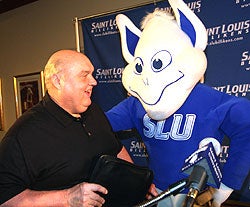 To put Saint Louis University's loss to George Washington on Thursday into perspective, portly coach Rick Majerus himself could have played point guard for the Billikens, and it wouldn't have hurt. Final: GW 49, Saint Louis 20. That's the lowest total for an NCAA men's team since the shot clock was introduced in 1985.
The Billikens (9-6), playing their first season under Majerus, missed 23 consecutive shots at one point and finished 7-for-48 (14.6 percent) from the field, including 1-for-19 from 3-point range. They trailed 25-7 at halftime.
Then there's this:
The fewest points ever by a Division I team was set by Arkansas State in a 75-6 loss to Kentucky in 1945. It was matched by Temple in an 11-6 loss to Tennessee in 1973.
Being connected with that mighty 1973 Temple team, that's gotta sting. In that '73 game, Temple coach Don Casey spent the majority of the game having two of his players stand 28 feet from the basket, passing the ball back and forth, while Tennessee sat in a 2-3 zone. The Owls held the ball for the final 11:44 of the first half. At one point the Tennessee crowd became so angry at the lack of movement that officials sent police officers to protect the Temple bench.
Now, that's basketball. Stupid shot clock. You've ruined everything.
St. Louis Sets Modern Record For Fewest Points [MSNBC]
Infamy In 17 Points — Flashback: Tennessee 17, Temple 6 [BNet]