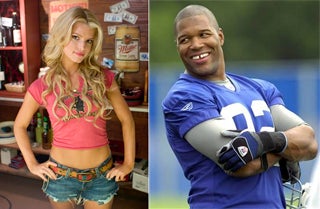 At first glance it's moral support from an unlikely source: Giants defensive end Michael Strahan says that Tony Romo and Jessica Simpson should be given their space. Leave Romo alone! He's a human being! Etc., etc. But you and I know what the real deal is here. Hey Tony, if you ever get tired of her, please don't forget a certain large, gap-toothed individual who took it easy on you in the '08 playoffs. Yes, Strahan wants some of that. Quite a bold move for someone whose body odor is offensive to squirrels.
Veteran Michael Strahan came to Romo's defense on Thursday, saying the young heartthrob had every right to go to a Mexico resort with Simpson and other teammates during the Cowboys' recent bye week. "You guys love to say, 'Oh, he is coming off the beach and he is dating Jessica Simpson' — please!" Strahan said during a news conference Thursday after the Giants practiced for Sunday's game against the Cowboys in the NFC semifinal. "Heck, if Jessica Simpson wanted to date me, I may give her a shot," said the recently divorced Strahan.
We're assured that Sunday's game at Dallas will be Simpson free; which is good for everyone involved.
Oh, and here's your Terrell Owens update. Looks like Terrell will be at the dance, girls. He will be there.
Strahan Will Say Yes To Simpson If Romo Doesn't [MSNBC]
Dallas Cowboys' Owens Says He'll Play Vs. Giants [Dallas Morning News]