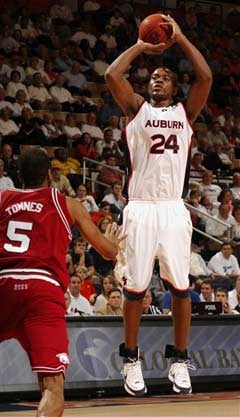 Jonah Keri writes the college basketball closer (more or less) daily. E-mail your questions, comments or Clarence Ceasar-related memories to jonahkeri@gmail.com.
murderous cat: Patrick Beverley knocked in 5-of-6 from beyond the arc and Arkansas shot 58% from the field, en route to a 76-70 road win over Auburn. The Razorbacks fell behind by eight midway through the first half, then stormed back, led by Beverley and Sonny Weems, both 17-point scorers on the night. The SEC West looks wide open this season, with Ole Miss' light early-season schedule belying its 13-1 record and LSU, Alabama and others probably not yet ready for prime time. Still, this is hardly the Arkansas superpower of the mid-90s. We're talking 40 minutes of mild discomfort, at most.
Move over Savannah State. Saint Louis sees your 85-25 loss to Kansas State and raises you a 49-20 embarrassment again George Washington. The Billikens set a new modern Division I record for fewest points in a game, undercutting a 21-point effort by Georgia Southern in 1997. They shot just 15 percent from the field and 1-for-19 from three-point range. Backup center Bryce Husak led Saint Louis with five points. Gotta love Rick Majerus' gumption for passing up a cushy Pac-10 job at USC in favor of a shot at the glorious A-10. But choosing the Billikens may not have been as hot a party as he anticipated. (Ed. Note: More on this game from Rick in a bit.)
Maurice Cheeks Theory. There's always been a certain appeal to Dave Cirilli/Bill Simmons' Ewing Theory, which spotlights teams that have lost a top player, only to refocus and come up big in his absence. But it's tough to look at, say, a 6-foot, 160-point point guard and conjure up images of this guy. UCLA lost Mo Cheeks-reminiscent point guard Darren Collison to a bruised hip, but got 18 points from backup Russell Westbrook to trounce Washington 69-55. Many scouts project Westbrook as a better player than Collison, who in turn has done a great job at the point for the Bruins after Jordan Farmar bolted early for the NBA. How they'd replace Kevin Love, the 6-foot-10, 271-pound bruiser who's scored in double figures in each of his first 16 college games while averaging better than 10 rebounds a contest in another story. Reanimating Brad Lohaus and force-feeding him chocolate chip-pancake-wrapped sausages on a stick probably wouldn't get it done.
Predictions. I picked Washington State to win at USC by eight and Boise State over New Mexico State by six. Ouch. The Cougs survived a 54 percent shooting night for the Trojans and 22 points and seven boards from O.J. Mayo to claim a 73-58 win. Meanwhile, New Mexico State freshman guard Jahmar Young exploded for 33 points as the Aggies topped the Broncos 76-73 on the Blue Carpet in Taco Bell Arena. I saw New Mexico State matching up well talent-wise with Boise State, but figured all of the Aggies' off-court troubles would hurt them. This is what happens when attempts at analysis get clouded with warm and fuzzy tales of basketball fairies and pixie dust. From now on, let's assume that these guys are stat-generating robots in pursuit of that coveted degree in leisure studies.
Niagara 76, Siena 65. Tune in to ESPNU tonight in to catch the nation's leading scorer and occasional blogger, Niagara's Charron Fisher. The Purple Eagles caught a tough break last season when they were relegated to the NCAA tournament's play-in game. This year, with Fisher leading the charge, they're the favorites to win the MAAC and scare the bejeezus out of a No. 3 or No. 4 seed in March. The game should be a great accompaniment to a couple of satisfying Screaming Vikings (your definition may vary depending on what your typical Friday night entails).
No. 13 Vanderbilt 83, Kentucky 69 (Saturday). I don't get the hype over this game. Vanderbilt is an offensive machine, fueled by one of the best one-two combos in America in Shan Foster and A.J. Ogilvy. Kentucky looks like a mid-tier Horizon League squad right now. Maybe a packed house and a spot on national television inspires the Cats, but like I said, I'm done picking with my gut, even if it may have more nerve endings than my brain.
Record: 4-1
Results within five points: 1-4