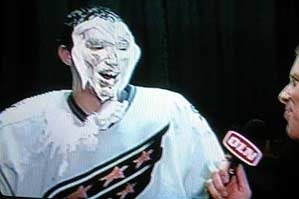 The NHL Closer is written by Greg Wyshynski, of The FanHouse and The Fourth Period. He is also the author of Glow Pucks And 10-Cent Beer. Enjoy.
About a year and a half ago, I wrote a cover story on Alexander Ovechkin for The Fourth Period Magazine. When I spoke to Capitals owner Ted Leonsis, I found he viewed Ovechkin as a virtual Messiah-on-skates: A player who was able to purge the lingering cancer from Jaromir Jagr's tenure and one he believed could finally elevate the franchise's popularity to the right hand of the Lord (who, in D.C. sports terms, is named "the Redskins"). But after interviewing Ovie, I was convinced that he loved the Capitals but would be making Oprah money in another, more prestigious NHL city by the time he was 28. Yesterday, Leonsis and the guy he calls a "once-in-a-generation" player gave me 124 million reasons why I was evidently full of shit.
Yes, I was a card-carrying member of the imbecile brigade that believed Ovechkin's ultimate destiny in the NHL was to leave the passionate but limited world of D.C. hockey (which, as you know, is also the name of the long-gestating sequel to "D.C. Cab") for the searing spotlight and tabloid scrutiny of Montreal, Toronto or New York. What separated me from my imbecile brethren was that I came to this conclusion during my discussions with Ovechkin, and not because I'm some obtuse elitist Canuck who believes Washington is as viable a hockey market as Mumbai.
He's a rock star on the ice and he's a rock star off the ice, dressing in garish Eurotrash clothes straight off the "what the fuck?" rack at H&M. When I'd see his eyes light up when talking about a rare road trip to a hockey-mad city that would treat him like said rock star, I had my doubts about his future in D.C. When he would talk about living in relative anonymity in Arlington, Virginia, or when he would brush off questions about miniscule crowds at the Verizon Center with maudlin variations of "if we win, they will come," I wondered if I should just go ahead and order an "Ovechkin, 8" Habs jersey to beat the rush.
I assumed the length of his next contract would be the canary in the coal mine for this franchise: A short deal that brought him to early unrestricted free agency would be the ultimate "no confidence" vote for the Capitals; a longer deal would show at least a compulsory level of assurance on his part.
At the arena on Wednesday night, there was a sense that this deal would get done at some point in the near future. I heard the Ovechkin side was rather obsessed with earning more than Crosby (mission accomplished). I heard Ovechkin's one-year offer from a new Russian league team could muck up the works. What I didn't hear, however, was that Ovechkin would sign a deal in line with the Flyers' Mike Richards or the Islanders' infamous pact with Rick DiPietro. (In light of the Ovechkin deal, spare me the "Charles Wang is a Hockey Visionary" bullshit. You still don't give goalies 15-year contracts because most of them have the prolonged productivity of your average NFL running back; and it's too early to figure out if DeePee is Curtis Martin or Christian Okoye).
So when I heard a six-year contract late Thursday afternoon, it made sense. When I heard 13 years for $124 million in the evening, it knocked me on my ass, picked me up, kicked me in the stones and then shoved me over a second-floor balcony into a dumpster of recycled glass.
Forget, for a moment, what this $9.5 million annual cap hit means for the Capitals' economics over the next decade. (Future star defenseman Mike Green will just have to deal with making slightly less than a busboy at Dennys). Ovechkin's is the single most emphatic endorsement of the competency of management and the direction of a franchise by a professional athlete that I've ever witnessed. And considering how many fans around D.C. feel management is incompetent and the direction of the franchise is undefined at best, it's a hell of a trust fall on his part.
But trust is a two-way street, and I'm just as blown away that Leonsis agreed to this kind of money for this duration of time. The seven-year, $77 million Jagr mistake crushed his spirit and soured him on big-ticket stars; he told me his spending during those early years as owner made the Capitals "the poster boys for what's wrong with the League." For him to offer this deal speaks volumes about his admiration for Ovechkin, and how the Capitals might as well drop their new Anime font logo and stick AO's goofy mug on the front of the sweater. It's his franchise now, if it wasn't already.
And for Ovechkin to seal this history-making deal speaks volumes about his overwhelming respect for Leonsis, his underrated comfort level in D.C., and how everyone who claimed to understand what his future held looks like a damn fool today.
So hooray for Ted, hooray for Ovie, hooray for you, hooray for me, hooray for school, and hooray for Capitals fans that can finally stop shitting their pants over where the rest of the hockey world believes Ovechkin "belongs," as they can comfortably raise a glass to D.C.'s pimp of puck.
Puck Headlines
* Scoring six unanswered goals, a Scottie Hartnell hat trick, the return of Simon Gagne, a night where Steve Downie has two assists and zero suspension-worthy incidents ... the only way the Flyers' 6-2 win over the Rangers could have been more satisfying is if Glen Sather had a sudden bout of senility and offered Lundqvist for Sami Kapanen and a cheesesteak from Geno's. [Courier Post.]
* Port Huron Icehawks fans are way too horny for some. [Times Herald.]
* Chris Osgood gets to play for the Red Wings, gets a contract extension and makes the All-Star Game. Pascal Leclaire gets jack and shit. Well, other than some of Ben Stiller's hair gel, evidently. Columbus Dispatch]
* Speaking of All-Star Games and shameless self-pimping, here's my take on the Sedin Twins being split up, complete with obligatory Tomax and Xamot reference. [FanHouse]
* If you haven't seen this "hockey fan taunt" video, it's worth a look, if only because this guy's oral sex skills are surprisingly refined. [College Humor]
* Tapeleg reminds us that when it comes to super crazy hockey brawls, Russia ain't got nuthin on college hockey. [a href="http://jerseysandhockeylove.com/blog/2008/01/11/thats-not-a-hockey-fight">Jerseys and Hockey Love]
* I'm slowly beginning to believe that not only will Ty Conklin save nearly every shot he sees for the Penguins, but potentially all of mankind as well one day. Pittsburgh 4, Tampa Bay 1, and if The PensBlog ever gets around to making those "Rock Out With Your Conk Out" T-shirts, put me down for three. [PensBlog]
* LA 5, Toronto 2. You know, I beginning to believe this might not be the Leafs year after all. [a href="http://bitterleaf.blogspot.com/2008/01/way-leafs-have-played-so-far-this.html">Bitter Leafs Fan]
* Who's better: Peter Forsberg or Eric Lindros? Tough call. Both were really good at keeping their head down, whether it was Lindros into Scott Stevens's shoulder or Forsberg diving to the ice like he was covering a grenade whenever someone breathed on him. [Joe Pelletier]
* Finally, here's a horrendous Steve Irwin imitator (TOOOOOOO SOOOOOON!) harassing female hockey players in a dorm hallway. Take a shot for every "crikey mate," and beware the red snapper...