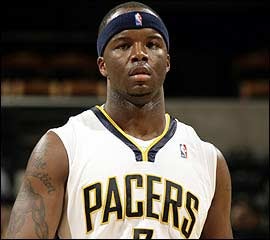 As part of his side "jobs" in Indianapolis, Pacers center Jermaine O'Neal opened a Miami-esque, sleek, fancy club in Indianapolis called "Seven." (You can see its official Web site right here.) This week, the club closed. Looking at that Web site, and realizing it was in Indianapolis, it's not difficult to figure out why.
O'Neal's business partners said the place is not permanently closed, and is just being retooled, "redone." And rumors are circling as to how the club will be constructed.
What are they gonna turn the club into? Well ... it's Indianapolis. You can probably guess. Yep, Jermaine O'Neal's fancy, sleek, "Web site that plays the Miami Vice theme song" club is rumored to be becoming ... a country western club. Thanks for trying, Jermaine.
J.O.'s Ultra Lounge Going Country [Indy Cornrows]
Seven [Official Site]