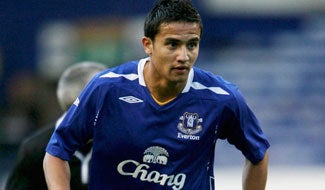 There doesn't seem to be a bevy of interesting games — even for soccer fans! — save for one game, Man City and Everton. They're separated by a mere three points at the top of the standings "tables," and Man City hasn't lost a game "match" to anyone recently except Tottenham. That kind of consistency is impressive "right good."
Meanwhile, Everton's Joleon Lescott seems to be coping all right after scoring an own goal in stoppage time against Chelsea in the Carling Cup earlier this week. Although it didn't help his psyche after he got home from the game, he unpeeled a banana and accidentally threw away the innards. Before that they lost a stunner in the FA Cup to League One (think FCS in college football) Oldham 1-0. Hmm. Oldham. Note to self: throw away expired Carl Buddig lunch meat.
So they're not doing so hot. But Man City hasn't won at Everton in their last nine trips, so this matchup here has tie written all over it. That has to be an interesting outcome for footie fans to experience over and over. Of the 209 games in the Prem League this year, one quarter of them (53) have ended with nobody winning. Can you imagine if MLB teams ended with 40 ties? Although I suppose salvaging a tie instead of losing in extra innings wouldn't be too bad of a change of pace for Cubs fans.
10 a.m.
Arsenal at Birmingham
Aston Villa at Reading
Chelsea at Tottenham
Derby at Wigan
Everton at Man City
Middlesbrough at Liverpool
West Ham at Fulham
12:15 p.m.
Man United at Newcastle