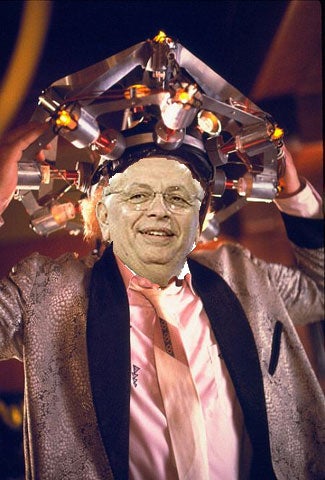 After a loss to the Atlanta Hawks, Udonis Haslem looked at a picture of his family and saw his siblings fading out of focus. He had no choice but to set things right and change the past. See, back on December 18 against the Atlanta Hawks, a last-minute foul that should have gone to Haslem instead was attributed to Shaquille O'Neal. Thusly Shaq got a sixth foul prematurely, and had to make like a tree and sit down for the rest of the game.
The Hawks went onto win, and after commissary review, David Stern said to roll back to the clock and replay the 51.8 seconds, with Shaq picking up only his fifth foul. Know what would be great? If he fouls out ten seconds later.
It sounds like the Hawks stat crew has a history of blunders, which raises the great philosophical question: if there's a scoring error in Atlanta, and nobody finds it until the next day, does it really impact the standings? Well, Christ, Atlanta was .500 before this game was taken away, and a .500 record is, like, second in the East, I think. So this might actually make some kind of ripple in the standings.
So Atlanta better play well in the final 51.8 seconds. If Dwyane Wade tries to drive to the basket, Al Horford would do well to deny him, or say, "Hey you, get your damn hands off the ball." This, of course, might constitute a technical foul that would be charged to Joe Johnson.
Back To Fundamental Charlotte Basketball — So if Charlotte beat Boston, and Cleveland beats Charlotte, that means the team that beat the Celtics can't beat the team who also once beat the Celtics and has also beat another team last year in the playoffs who once beat the Celtics this year. I'll have a flowchart on your desk explaining all this first thing tomorrow morning.
LeBron James had 31 points, which he's done several times, but he never had 19 or more rebounds before, and that happened. Anderson Varejao also had a career high in rebounds against the team that initially tried to sign him during that holdout. Awkward? As Charlotte left the court that night, Michael Jordan and Varejao casually caught glances of each other and a Kelly Clarkson song raced through each of their heads.
All Right, We're Good — All is well in Boston as they got their 30th win against the New Jersey Nets, 86-77. And 30-4 is still just about as impressive as 30-3. Although, if it were my team? Yeah, I'd panic. Panic long and good. 30-4 is, like, a miserable record.
Oh By The Way, Dallas Won — During a break in the Mavericks-Sonics game, Jon Kitna tried to throw a t-shirt into the stands, but the shirt slipped out of his hand and fell harmlessly to his feet. Paris Lenon tried to retrieve the shirt for him, but he accidentally kicked it into the first row.