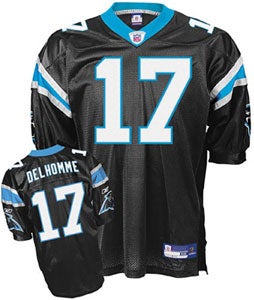 All right, another after-Christmas NFL merchandise sale! It's perfect for people with January birthdays, January anniversaries, or if you really, really enjoy Martin Luther King Day. There's just one catch. The 30 percent price cut only applies to teams who really suck.
No, really. The only teams whose merch is 30% off are those that did not make the playoffs, with the exception of the Tennessee Titans. So if you weren't gonna drop $249.99 on that authentic Jake Delhomme jersey, fret not. It's down to — are you sitting down? — the low, low price of $174.99!!! YOU'RE CRAZY, NFL SHOP!!
Actually, thumbing through the NFL Shop, they've got some really goofy items on sale. How about an Atlanta Falcons dog jersey? Or a plus-sized Eagles coaching polo shirt? And they're still trying to unload their slew of Daunte Culpepper Dolphins jerseys. You'd be hurting the American economy not to buy these.
New 2007 End of Season Sale [NFLShop.com] (via Dealnews)