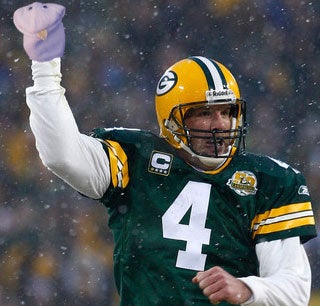 It appears that Winkles the Sockpuppet has found his way to Wisconsin, somehow, someway, to inspire Green Bay's comeback despite a 14-point deficit way early on. Seahawks fans — everyone, actually — would be wise to follow along for the second half of this incredibly fun game and see if Seattle has any answer for Brett Favre's goofy underhand shovel passes.

——————————————————-
Fourth Quarter
0:00 — Matt Hasselbeck begins again answering Brett Favre's fan mail.
1:09 — Sign(s) in crowd: "♥ Oh Brett ♥" / "♥ Never leave us ♥" Don't worry. When the Packers are 3-13 and still toughing out Favre retirement rumors, he'll still be there for you.
2:00 — I see no forthcoming reasons to watch any more of this game. If you call Pizza Hut now, you might get your order by the start of the Patriots-Jaguars game.
8:03 — Another football goes right through Pollard's hands on a 4th and 10 play that just might shut down the Espresso Machine of Hope for Seattle in this game. Green Bay takes over at their own 40.
8:14 — Oh, that's what happened to Charles Woodson.
8:28 — Hasselbeck tries to throw to his left, but the ball somehow goes backward. After several players tried jumping on the ball, nobody could recover it and it skips out of bounds. Even though the referee called it an incomplete pass — something I highly question — the football grew legs and ran out of the stadium. It's resting comfortably at an EconoLodge in Racine.
12:06 — Tony Siragusa accidentally ingested his microphone. Frankly everyone involved got a good deal.
12:08 — Up three scores, Ryan Grant's probably going to see the ball a lot. Another big gain and he's almost at 200 yards.
Oh, Christ. Fox, there are other arena songs besides "Bang On The Drum All Day." If I hear that one more time, I'm deleting it from my iTunes.
13:26 — Touchdown. Ryan Grant doesn't want to work, he just wants to bang on that PA soundboard all day until they play something different.
20
42
14:13 — There should never be roughing penalties when it's this cold and snowing. The key to hitting the quarterback late is a matter of body warmth. Hill did Favre a favor there.
15:00 — It's first and goal at about ... [squints] about 16 metric snowballs from the goal line.
Third Quarter
0:44 — Ryan Grant has well over 150 yards in this game after that huge 42-yard run. The official total is 167 right now, and that's a Packers playoff record. That's six less than the Seahawks total offensive output, and more yards than Hasselbeck alone has passing.
1:48 — Clearly in a PETA-inspired move, Tony Siragusa is wearing what appears to be a raccoon hide on his head.
2:48 — Josh Brown field goals the game to a manageable two-touchdown deficit. Although at this rate, it's five field goals.
20
35
3:38 — Hasselbeck throws to the corner for Marcus Pollard, but the ball sails through his hands. Apparently it's hard to see with all the snow. How? It's the one snowflake that's big, oval, and continues to get bigger.
6:49 — Shall I say it? Do you want to? Fine. "Something something ball, something something Atari Bigby on the play."
7:11 — The snow is getting thicker. "AND LEON'S GETTING L-L-L-L-L-LARGER!"
8:43 — Just when Seattle starts moving the ball in a desperate plea to return this game to something interesting, a holding call just might have choked the drive.
10:25 — Brandon Jackson catches a dumpoff pass and hurries down the sideline. This game, once thought fun, is becoming Siragusa ugly.
17
35
11:54 — A long third down conversion from Favre to Jennings. The old man might be placing these passes perfectly, but the Packers receivers are doing a hell of a job moving down field for extra yards. That 20+-yard play is followed by another monster run courtesy of Ryan Grant. I wonder if Maurice Morris is going to try and fumble a couple times when they get the ball back, just to have an out of sight fourth quarter.
14:12 — Quick three-and-out by Seattle. That gives the offensive more time to huddle around Josh Brown's steaming trousers.