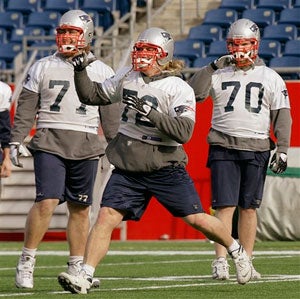 The team nobody wants to play is playing the other team nobody wants to play. I forget which is which. While the first half of the Green Bay-Seattle game was phenomenal, the remainder pretty much bit the jawbreaker. Let's see if the Patriots and Jaguars can provide a full 60 minutes of entertainment. Are everyone's final bets in? Good. Follow along with the commenters and me after the jump.

—————————————————————
Hey, stop looking at this live blog. This is the one you want to see.
Second Quarter
0:08 — Kneeldown. Toilet break.
0:21 — But they don't have plenty of yards. It's fourth down, and Jacksonville will try this quirky play called "the punt" where they kick the ball down the field and a Patriots guy catches it. It's like a kickoff, only there was no scoring involved the play before. I explain this because we haven't seen this in the game yet.
0:54 — Ooh. Gostkowski's kick misses the post by about a foot on the outside. Jacksonville has plenty of time to move into field goal range of their own, since they have two timeouts.
0:57 — Joan Rivers in a GEICO commercial, you say? Progressive it is.
2:00 — New England won't let Jacksonville touch the ball for the rest of the half, it appears. They'll take a 3-point lead if they have to.
3:06 — The Patriots are putting together one of the most boring impressive drives in the playoffs so far. Their longest play of the drive is 12 yards ... check that, 13, now that Wes Welker ran the reverse. That play just jolted a skosh of excitement into the drive.
7:46 — Ernest Wilford runs inward, outward, and frees himself to catch the equalizing touchdown. I do believe we just saw a 95-yard drive in New England. Strap yourselves in, children of the Internet. At the rate this game's going, the final exciting play might be Tom Brady running, throwing, catching, fumbling, recovering, and returning his own touchdown pass with 0:00 on the final clock. (Suddenly I am craving Waffle House hash browns. I don't know why.)
14
14
8:48 — Jones-Drew almost gets in, but two forces of linemen push him on either side. I am astonished he's yet to attain the texture and thickness of an absorbent paper towel.
11:26 — As bad as the drive began (and there was almost another fumble earlier by Marcedes Lewis), Maurice Jones-Drew and Fred Taylor are moving the ball downhill extremely well. They've already moved 80 yards on this drive, including a half-the-distance face mask penalty.
14:57 — Maurice Jones-Drew incorrectly chooses to see if Gostkowski's kickoff goes out of bounds. He just barely recovers the muff at the 5-yard line before he's piled on by oncoming special teamers. I can't say this is amazing field position.
15:00 — Like you didn't know this was going to happen. Maroney waltzes for the one-yard touchdown. I didn't catch the camera shot, but Belichick probably looks PISSED.
7
14
First Quarter
0:00 — New England has moved all the way to the final yards and so far we're on par for not only the number of points in the game, but also the number of Belichick grimaces following great Patriots plays.
3:30 — Ty Warren's helmet gets into Garrard's hands, and the ball spills into Mike Vrabel's torso. The Patriots have 30-ish yards between them and a 7-point lead.
5:01 — I totally saw that. Brady beckoned Benjamin Watson to break off his route so the defender would whiz by, leaving him open-ish to catch the touchdown. We're tied again. So far, so interesting.
7
7
6:15 — Pretty counter-toss play that Maroney takes for a first down.
9:22 — Phil Simms is still on Belichick for not challenging, not realizing he's the brash kind of coach that knows he's going to win by 35 already, so what's seven points between rivals?
9:55 — The sack is followed by a checkdown pass to Maroney for about 30 yards.
10:37 — It's first down New England, Brady gets wrapped up by a defender, but keeps the ball and goes down for the sack. And here I thought every quarterback today was able to create a crazy first down play moments before collapsing to the turf.
10:50 — It's 3rd and goal, and Garrard stays in the pocket for a while, finally steps forth and gets tackl... wow, he got it out in time, and Matt Jones catches it wide open for the touchdown. Belichick brandishes the "you suck ref" flag, but chooses not to use it to double-check if Garrard's knee was down before he threw the ball. Yet again the underdog away team scores early.

7
0
12:10 — Already on 4th down, the Jags offense stays on the field on the 42 yard line. Garrard looks back ... wow, Marcedes Lewis is open deep, and Garrard finds him. Gutsy Nice play.
15:00 — Jacksonville starts with the ball. They say the first offensive play can dictate how the rest of the game will unfold, so it's very important to pay attention. And it's a ... five yard run. I don't have that on my astrology chart. Shit.

Pregame Babble
Everyone outside of Boston probably wants to see an upset, even if it's out out of spite, but rather they just want to see one of those timeless upsets. Jacksonville has the components to do that, but that's assuming New England dusts off the playbook they used against Philadelphia and Baltimore. They burned that one long ago.
How about a comment from ESPN?
"Maybe the Pats can be beaten, but not by these guys. In fact, I'm insulted that you even think this might be close."
Actually, that wasn't the featured ESPN comment. That was from Bill Simmons.
I might want to make a prediction. A Jaguars upset means that Jacksonville played an exceptional game, as opposed to the Patriots played as if Matt Cassel was in at quarterback. So that's the kind of game I want to see, but something tells me New England keeps it close in the first half, then drives away in the third quarter, just like last game. Patriots by 13.
• James Brown's interview with David Garrard talks about his battle with Crohn's Disease and how they had to surgically remove a foot of his intestine. Knowing this, please take offense if the announcer says that Garrard, after a great play, is a gutsy quarterback.