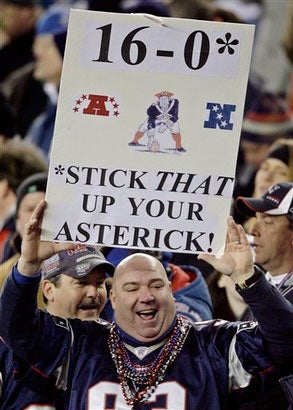 I'll give Boston the benefit of the doubt and assume that most New Englanders know how to spell "asterisk" correctly. But when Stephen Savoia took this picture for the Associated Press, he made it a point to ensure that Johnny West, the man holding the sign, was called out for the misspelling, and that this wasn't put on the Patriots fanbase as a whole.
We don't know if Belichick's playbook is rife with misspellings, but we do know that his team will be ... hey, wait just a second. Maybe that's the secret to a perfect season. Misspell everything in the playbook. Oh that genius.

—————————————————————————————-
Fourth Quarter
0:00 — 17-0*
* - One of those wins was not in the regular season.
0:22 — Jacksonville gets the ball back on a punt, basically being teased at this point.
2:00 — So Joe Montana gets his own diner in a commercial, even though he's a Hall of Fame quarterback and doesn't need the income. Yet Eric Crouch is probably delivers pizzas for a living somewhere and... nothing.
2:18 — Dante Stallworth's first down just about wraps this game up. All the love and adoration may now be unloaded on Brady, Welker, and the defense. And deservingly so. Jacksonville played a mostly awesome game.
4:08 — Complete! To the wrong guy! Garrard has an offseason to digest mull that interception to Rodney Harrison. Maybe for a split second, Garrard thought his team wore blue. Maybe this is a peek into a super-double-dog-secret uniform change for Jacksonville in 2008. Maybe.
4:17 — Oh, let's do another fourth down play. Why not?
4:34 — Gutsy Impressive play by Garrard completing to Dennis Northcutt for the first down. Asante Samuel gets a 15-yard "play nice" foul for apparently punching the football out of Northcutt's hands out of bounds, taking out a lifetime of broken childhood dreams. Save the aggression for the flight attendant.
4:42 — Jacksonville is forced to try a 4th down play inside their own 40. Outlook isn't so good for underdog well-wishers.
6:39 — Gostkowski's field goal puts the lead back at a touchdown*.
* - Would have to cheat and score the rare four-point conversion.
20
31
6:43 — Wes Welker drops a 3rd and 1 pass. I don't think the blonde chick in that KFC commercial saw that coming. Then again, she didn't see the roofie in her drink slipped in by her male friend either.
8:22 — Oh, there's that big pass play I've hard so much about. Brady threw it to Dante Stallworth who didn't even have to break stride. That went for 53 yards. Randy Moss, by the way, has just one catch for 14 yards.
9:47 — Scobee's field goal, after Matt Jones couldn't grab a third down catch, puts the game within a "touchdown"

20
28

10:31 — Jones-Drew pretty much runs through Junior Seau. It's as if the linebacker has lost a step or two after all these years.
12:18 — Another impressive catch, this one coming from Reggie Williams, just barely getting his hands underneath the ball and just barely eliciting a dick joke. He just kind of laid on the ground for a second or two before being playfully tapped by someone in the Patriots secondary.
14:31 — Ernest Wilford hauls in a very tough third down catch, then takes a late hit and improves field position by 15 more yards.
Third Quarter
0:00 — Jacksonville closes out the quarter with the ball, but at the 7-yard line. That's disheartening, because it's not like they can go that far to score a touch ... do ... wn ...
0:51 — Tom Brady just sort of stands around, like a panhandler, then makes a conscious decision to try a "forward pass." Benjamin Watson, standing around in the endzone like a different kind of panhandler, is grateful. Here comes that lead we've been hearing so much about.
17
28
Cialis allows the husband with E.D. to respond to Sally only when he's ready. Unfortunately, Sally is the babysitter.
3:29 — Well, after a questionable roughing-the-dreamboat penalty, Maroney turns a draw play into, oh, let's say 29 yards. That's what GameCenter says. (Note to self: Don't just go over to GameCenter entirely. It's full of boring statistics, with none of the love.)
4:14 — After David Garrard was thrown around between Rodney Harrison and Mike Vrabel just long enough, Josh Scobee salvages the drive with a 39-yard field goal. Meh. Points are points.
17
21
5:48 — Matt Jones was apparently moved up on the Jaguars depth chart to "wide receiver" from "wide receiver?!?!" and catches yet another big pass, this one going for 29 yards.
8:49 — It doesn't appear that Jacksonville, in their halftime adjustments, installed a cover-white-guy defense. Wes Welker had four receptions on that drive, including the touchdown.
14
21
10:27 — That was Brady's first incompletion of the game? Sweet Jesus, he's right. He completed his first 16.
11:20 — Until Maroney runs for another 20-or-so yards.
12:49 — Doing what they did their last drive — okay, not the one-play drive where they knelt, because that would be silly — the Patriots are just putting together good-but-not-too-good plays in succession.
I'm remaining staunch to a two-touchdown victory for New England. But I think I speak for all underdog lovers by admitting Jacksonville pulling out this win has a much better chance of happening.