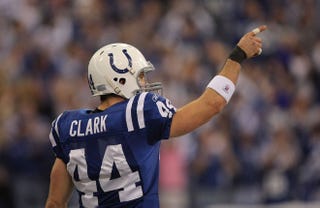 Okay. "Interesting second half. Interesting second half." Just keep saying that mantra for as long as you can, and maybe it'll happen. Men, women, children, follow us to freedom after the jump for more of my livebloggery.
—————————————————————————————————
Fourth Quarter
0:00 — Kneel, kneel. Cue the Dungy retirement rumors, for some reason.
0:58 — Manning floats one over the defender, but Clark flubs the catch. That means San Diego wins. Philip Rivers celebrates by taunting the fans behind him. People he'll never see again. That's fantastic showmanship by the guy who didn't lead the 4th quarter comeback.
1:03 — Reggie Wayne got pulverized by the safety on that incompletion. I never thought I'd say this, but the Colts appear to be running out of wide receivers with functional limbs. It's fourth down.
1:30 — Christ, Mike Scifres catapulted that punt almost 80 yards (66 effective) and the Colts have a way to go.
1:42 — Turner gets popped at the line of scrimmage, Colts call time out, Indy has one more shot at this. The mantra worked, we have our full 60-minute interesting game.
1:52 — The Bolts are relying on Michael Turner to run all the way to the 17-yard line, and they should secure the win. He's four yards away.
2:01 — Whoa! Pressure finally gets to the quarterback, and he has to unload prematurely (heh, heh). San Diego takes over, but the Colts have all their touchdowns.
2:06 — Another fourth down, this one about five yards away from a touchdown.
2:58 — As if it mattered, Manning to Clark secures the 4th down play, but Phillips mistook Clark's face mask for an Etch-A-Sketch, and 15 more yards go onto the end of that completion.
3:10 — Manning's constructing a drive without Joseph Addai, and now without Marvin Harrison. Deep balls to Devin Aromashodu and Reggie Wayne failed, bringing up 4th down for Indy.
4:50 — Nobody ever doubted Billy Volek. And why would they? He sneaks it in from a half-yard out. Damn.

28
24

7:43 — "Naanee" is what I usually start a game of Scrabble with. But he runs 27 yards on the screen.
7:55 — A Volek incompletion is negated by Marlin Jackson pushing Chris Chambers face mask in such away that made it a penalty. That's 15 yards and a new first down instead of a punt, which Isiah Thomas informed me is a pet ... never mind.
8:13 — Did Shawne Merriman just try to get the crowd pumped up a little on third down?
9:50 — Good throw by Volek to Chambers for a first down. Good protection, actually.
10:11 — You know, I'd love to see Rivers come back into this game any time now. I wonder how we can ... 55 yard pitch and catch to Anthony Gonzalez? Sure, that'll work. But wait, did he go out of bounds? Probably not, but humorist Dave Barry coach Norv Turner wants a review. Yeah, that thing stands.

21
24
11:03 — Billy Volek completes a three-and-out drive.
12:02 — Welcome back to the sideline, Philip Rivers. He jogs out on his own, and apparently that makes him tough. It's not like he just got a vasectomy. This doesn't mean he's coming back into the game. And why would he? Billy Volek is fully capable of three-and-outs too.
Okay, so after seeing the replay, Rivers wasn't celebrating. He just fell down. I gave him too much credit, and I retract my earlier comments.
14:09 — We're evidently going to see the teams alternate big penalties. First the PI, then a personal foul on a Colts offensive lineman, now defensive holding on Drayton Florence. It's time for the Colts to see if they can get a roughing the kicker penalty. I know Nate Kaeding's on the sideline. Doesn't mean they can't give him the business at this very moment.
14:41 — So I looked up who the backup QB is for San Diego. I was hoping for Craig Whelihan, but I'll settle for Billy Volek. That's comical enough.
14:48 — The Chargers get flagged for pass interference. That'll hurt.
Philip Rivers hobbles to the locker room, but not before he jaws with Colts fans down the sideline. What trash could possibly be talked? "No, douche, I'm not really hurt. Your mom is hurt. When I banged her in the ass!"
Did ... did the Colts fans just boo a 14-year-old girl who won Punt Pass and Pick because she was wearing a Patriots jersey? Wow, I wasn't aware asshattery was within the parameters of the Indianapolis way of life. I'm impressed.
Third Quarter
I do think Philip Rivers did his best Bill Gramatica impression, hurting himself after jumping up in celebration. Ah, I see how it works. Confuse the masses with poised pass plays by Philip Rivers, addle them further with a Sproles run, then bring it all back home with that. Well played, NFL.
0:00 — Darren Sproles replaces Turner at running back, then catches a screen pass and darts 56 yards for the touchdown. The confusion continues to mount over here.

21
17

0:48 — Monster throw by Rivers on third down to Chambers. I really don't understand how he's making these completions.
1:09 — The Chargers try to pull off the "fake false start" but it fools nobody and winds up being a delay of game.
Dan Dierdorf continues to rub the replay in the referee's face, like he just took a dump on the 1-yard line. "See? Right there. No. Bad referee."
3:19 — Reggie Wayne catches it in the flat, dekes out the defender, and dives for the end zone. Really? They say he didn't get in? I disagree, kind sir. Tony Dungy throws out the red flag to try and get the call reversed. It's a dandy little gewgaw, the red flag. Ten years ago you couldn't use the red flag in the NFL. You had to use a $100 bill, but to keep it discrete they wrapped it in a red flag. And ... yes, it's reversed. Rightfully so.

14
17
3:41 — Uh, what just happened? Indy quickly tried to catch San Diego substituting lackadaisically and Kenton Keith just got hammered, but SD was offsides. A rather clever ruse by those Horseshoes, and they're almost back where they were before the second interception.
6:07 — They've successfully scraped up Bob Sanders' bone marrow in time for play to resume, and Rivers ends the drive with a three-and-out.
6:14 — Bob Sanders isn't getting up. That's a synchronous "rut roh" across Colts fans.
7:10 — Well, shucks. Manning's pass gets racketed around by various hands and lands in the arms of a Chargers defender at the 2-yard line.
7:50 — The Colts move all the way down to inside the 10-yard line. Although I guess physically inside the line would require one to be of microscopic height.
11:23 — Chris Chambers didn't have to make a spectacular catch. Rivers put that ball exactly where it needed to be. Now San Diego has the lead, and my full interest.

14
10