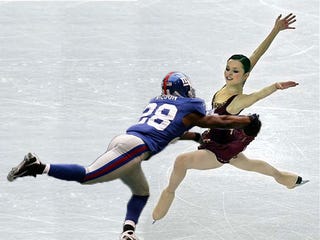 If New York wins this game, they're going to have to play in Green Bay, so Gibril Wilson seems game in case they have to play another Ice Bowl in Wisconsin. But the game's only 14-14 at halftime, and we are also 4-for-4 in evenly-matched first halves this weekend. Follow along after the jump to see if we have our second straight competitive second half or if Dallas starts pulling away with the lead.
——————————————————————————

Fourth Quarter
I'm pretty sure I did the live blogging work of eight virgins this weekend. Monday morning, like a good hangover, I might be going on about how I won't be doing that for a while. But before I go, let's give a big round of applause to Winkles the Sockpuppet, for making quite a showing this weekend. Did you have fun this weekend? [violently nods yes] Good, so did we.
0:00 — Jessica Simpson text messages Eli Manning.
0:09 — R.W. McQuarters catches the 4th down pass in the end zone. But R.W. McQuarters plays for the Giants. Holy sweet Christ, Wade Phillips is gonna be poked with a stick by Jerry Jones all offseason.
0:16 — Romo overthrows Crayton in the end zone. 4th down.
0:21 — Nailed by Osi Umenyiora as he throws, Romo's pass is incomplete to bring up third down.
0:24 — A false start hurts the comeback, then a short pass to Witten doesn't go far, and forward progress keeps the clock running. Dallas invokes their final timeout.
0:31 — Jerry Jones is now on the sidelines. PRESSURE.
0:31 — There's a pass completion to Witten. They don't call a timeout, but Justin Tuck for the Giants is on the field, hurt, so NY will have to use one of their own. A half-minute to move 22 yards.
1:06 — Barber gets stuffed by his own lineman short of the first down. Whoops.
1:50 — Crayton returns the punt into New York's side of the field. I think we can officially say that Sunday's football was exponentially more awesome than Saturday's.
2:00 — So that's where Tank Johnson went. Same team as Terry Glenn. I'm learning so much this afternoon. Johnson completes the three-and-out by sacking Manning, and the 'Boys didn't even have to lay a pinky on their one precious timeout.
3:54 — Did they almost fail to get the play off again, after a timeout? The 3rd and 20 deep throw to the end zone falls harmlessly on blue-painted turf, now Dallas punts and again needs stop the Giants from gaining a couple of first downs.
Some woman in a Cadillac commercial with an undecipherable accent — we'll leave it at "exotically marketable" — complains that some study showed women buy cars because of the cup holders. Just for the record, I bought my Honda Civic not solely because of the cup holders, but they sure didn't hurt the sale.
4:03 — They can't get the snap off in time, prompting usage of a timeout. Romo is about to lose his shit, if he has any left at this point.
4:09 — That yellow flag is taking more beatings than [completely tasteless domestic violence joke]. Now Romo gets called for intentional grounding. If he had the same ability as David Carr, the grounding would still be intentional but at least Romo would have an excuse.
4:16 — After an illegal formation penalty negated a first down, Romo went deep, but Corey Webster for masturbation illegal use of hands.
6:11 — Tony Romo just got sacked for 14 yards, but it was a fun 14 yards.
8:01 — Patrick Crayton isn't muffing every punt. But this is one of those times. Cowboys still recover it, though.
11:35 — Despite Andre Gurode having difficulty snapping the ball under center, Romo is making some incredible plays and the wideouts are impressively making catches. (Read: Patrick Crayton isn't dropping any more passes. Okay, Patrick Crayton isn't dropping every pass.)
13:29 — Jacobs runs in for a touchdown, then chucks the ball at ... the play clock? I don't understand the significance. Otherwise, I'd wonder where the excessive celebration penalty is.


21
17


14:56 — How come Eli Manning can't be all smiles and fun? He's making just as many plays.
Third Quarter
1:10 — Patrick Crayton ruins another silly Tony Romo scramble play by dropping the pass that could have gone for maybe 40 or 50 yards. Joe Buck: "Maybe some of these other players should have gone to Mexico." How do you know they didn't? We just didn't hear about them because nobody gives a Mexican jumping fuck about Patrick Crayton's personal life. Dallas has to punt now, and New York returns the ball almost into field goal range.
2:18 — Leonard Davis gets himself a big ol' 15-yard penalty for hitting Michael Strahan who was already on the ground. How is that a penalty? That should actually be a reward.
5:18 — DeMarcus Ware has something in his teeth. Better jar it loose, because it has to call the next play for the Giants.
6:57 — Ah, there's that "lack of execution on third down" that all the kids are talking about these days. Nick Folk caps the drive's diminuendo with three points.


14
17


8:31 — Did ... did Tony Romo just knock down his own offensive lineman to get to the first down? By any means necessary, I guess. He reached first down by making one final leap over his mother.
10:01 — Hey, Dallas, wanna fail at a third down conversion sometime? No? All right, carry on.
13:03 — The Fox cameras aim right into Jerry Jones' suite. You can almost see the lightning bolts propped up against his wall in case he needs to smite down any players who blow the game.