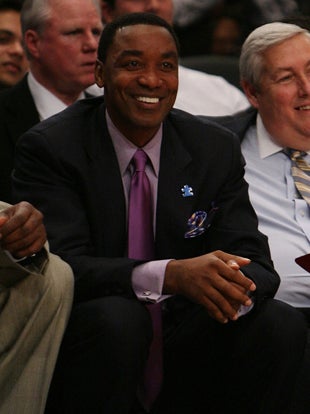 The NBA Closer is written by our Canadian weekend maestro J.E. Skeets. When he's not busy scouring the box scores or filing important documents, he can be heard on The Basketball Jones daily podcast.
• How Bizarre. (Sorry, Drew.) Area 51, that ghost in Three Men and a Baby, the New York Knickerbockers ... you know, some things are better left unexplained. Zach Randolph had 25 points and eight rebounds as the Knicks cruised — cruised! — to an 89-65 victory over the weary Pistons, who barely avoided the worst offensive performance in franchise history. "I just got off the shower, washed it off," Chauncey Billups said. "I washed it right off on that shower. Got to forget about that one. That was bad." Question: How does one get "off" the shower? What type of shower heads does Madison Square Garden have? Did Steve Francis install them?
• Win, You Stupid Fucking Dinosaurs! Win! Was anyone else a little disappointed that Suss decided to live-blog the NFL playoffs instead of the Blazers-Raps game yesterday? Anybody? Anyone? Anybody? Guys? Anyone? Oh, me neither. Chris Bosh had 38 points and 14 rebounds as the Raptors beat the Blazers 116-109 in double overtime to hand Portland their second loss in 19 games. Brandon Roy had a career-high 33 points in defeat.
• This Is Why You Never Go For The Rebound, Kids. Andrew Bynum, a key cog in the Lakers' longest winning streak in nearly four years, sprained his left knee in LA's 100-99 victory over the Grizzlies. With just under nine minutes left in the third, Bynum went up for a rebound. As he came down, his left foot landed on top of teammate Lamar Odom's foot, causing his left knee and ankle to turn awkwardly. He'll undergo an MRI later today. (Free lollipops!)
• Hawk Off. The Armadillo Cowboy (Joe Johnson) lassoed in 37 points, including 25 in the first half, as the Hawks — KREE-EEE-AR! — beat the Bulls 105-84 to end a 12-game losing streak in the series. 12 games! That's almost a baker's dozen! Josh Childress added 14 points, nine boards and a few afro pubes for Ben Wallace's face in the win.