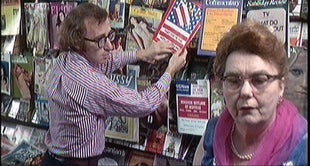 Apparently, that issue of Penthouse we told you about last week has hit newsstands. We haven't seen it yet, but it's at least at Borders. But be careful, if you head out to purchase it.
Over at Refrigerator Logic, our own Tuffy R. details, in hilarious fashion, the saga of attempting to buy a copy from his warm, family-friendly suburban bookstore. Our favorite excerpt:
A few feet away, the obligatory Borders cafe was full of those same teens and young mothers with their children, sipping away at their coffee and nibbling their pastries. I kept my eyes locked on the magazines, but I was sure they all heard my betrayal at the hands of the Information Desk clerk of the local Borders. Not only was I a pervert, but clearly I had specific needs! I simply couldn't get by with a Playboy; I needed the latest Penthouse to keep my collection current.
We don't recommend this, frankly. As our uncle informed in high school regarding condoms, the only way you're going to avoid shame, friends, is to steal 'em.
Adventures In Pornography [Refrigerator Logic]

We Are Now Invading Your Porn [Deadspin]

God Save The Fan